Please take your seats. Today we are going to look at casual done well.
I was reading
Tom and Lorenzo
early this morning and marveling at their unique combination of genius writing and spot-on fashion commentary, when I found these two photos that perfectly demonstrate everything we've been talking about lately, sartorially-speaking. Tom and Lorenzo are hugely entertaining and if you're not already reading their site, you need to start. Anyway. I've got a boy and a girl here for you, and they are both reaaaaaaally hot so I hope there's a little bit of something for everyone. Let's start with the Mr. Ryan Reynolds.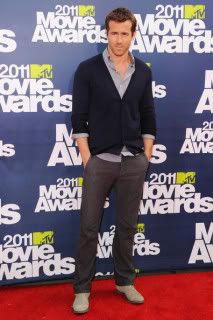 This was from the MTV Movie Awards this past weekend. I can't tell if those are jeans or jean-adjacent-pants, but they fit well and are hemmed perfectly. No pooling at the ankles. Flat front. I cannot say this enough, guys: flat front pants are a big YES. Untucked button down shirt with rolled sleeves says,
I had to do the dishes real quick right before I got here
. Cardigan says
It might be chilly inside the award show venue.
They go really well together, and by unbuttoning the bottom cardigan button our Ryan avoids a Mr. Rogers effect. The colors of the shirt, cardigan, and jean-adjacent-pants combined push this look from I Know I'm Hot And I Don't Have To Try (See What You're Missing, Scarlet?) territory into I'm Breezy and Put-Together (And I Don't Talk About My Exes). I've got to be honest with you: I don't love the color of the shoes. I suppose the lighter tan takes this ensemble from Fall to Spring, but I think I would have preferred camel or a darker brown.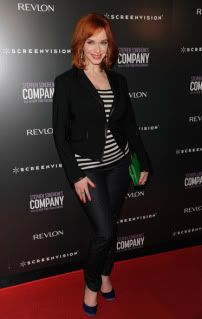 And here we have Christina Hendricks at a play. No one dresses up for the theatre any more. It used to appall me, but now that I've seen how to do it right, I am going to try to mimic this look as much as possible. Here's what we're looking at: very nice, very dark wash jeans - the darker the wash on your jeans the farther they can go into evening-appropriate. Her shirt is slightly low-cut without being vulgar and it falls exactly at the right place to accentuate her hips without falsely enlarging them. Do you see it? It's right in that magic space at the bottom of the hips and tops of the thighs. Breaking up the horizontal stripes she has a crop blazer, buttoned. A crop blazer is a tricky thing because it has to fit just right and, especially when paired with a shirt like this, it has to be buttoned. This brings attention to your waist, and paired with a shirt that falls at the right spot on the hip-thigh junction (Hip-Thigh Junction what's your function?/Giving us guidance for where shirts should end...) it just spells You Cannot Handle How Much Woman I Am But I'm Gonna Let You Try. Ladies with ample breasts, this is a great neckline so you don't have the dreaded double boob* showing through your tshirt. Big earrings, no necklace and that is the right answer for this look! I like how she takes this from nice to fab with the technicolor accessories - blue shoes, green bag, red-red hair. You'll notice the fabric on the shoes and bag is the same, which makes them seem like they belong together even though they are different colors. I do not, however, advocate matching your nail polish to your lipstick. That's a little much, Christina.
*You know what I'm talking about. Stop wearing demi bras and this will end for you. Full coverage is your friend.