Hooo buddy! Let's put our judgey pants on and do this! Take it away, Tony Award fashions!
THE GOODPatina Miller!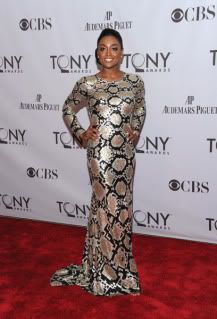 Best dressed of the night, in a landslide. The fabric is gorgeous, the silhouette is to die for, the styling doesn't try to compete with the gown. It's sexy and sophisticated. Welcome, Patina. We can tell you've been practicing.
Sutton Foster!
Not my favorite shade, but this dress is divine on her. I love the way the fabric is ruched all the way down in a perfectly-fitted fishtail. Girlfriend could definitely use a necklace, though.
Catherine Zeta Jones!
When last we saw CZJ at the Tonys, everyone was sort of muttering to each other, "Really? CZJ
won
? In blue eyeshadow?" And since that time, she's been through hell with the husband-cancer thing and the bipolar disorder thing. You know what's the best way to get through hell? You take a right at Amazing Dress Avenue and then head straight down I Still Got It, Beeyotches Street. Unfortunately, our CZJ still can't figure out how to wear eyeshadow.
Angela Lansbury!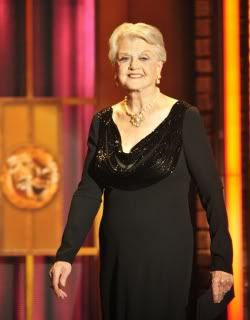 Still alive!
Chris Rock!
Okay, the hem on his pants is fairly insane and we are
not
going to discuss what his wife is wearing. But! This is a super sharp suit, simple and elegant, worn with fantastic shoes. Way to go, Broadway actor Chris Rock!
Ellen Barkin!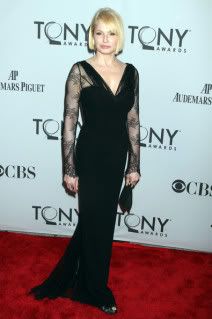 I always like to see sleeves done well. I was between Good and Meh on this one because her hair is boring and she could definitely use some bling, but since Ellen Barkin is one of the celebrities that people lie and say I resemble, I had to put her in the Good pile.
Martha Wash!
Hi! Hi! We're your Weather Girls and have we got news for you (you'd better listen)! Martha Wash is bringing it in a beautiful dress with plenty of bling. Humidity's rising...barometer's getting low...according to our sources...the eye makeup's the only thing that would have to go...
Judith Light!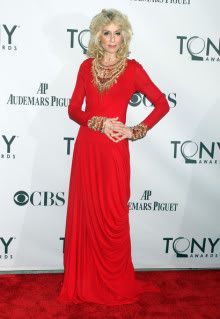 You know what? Even with the crazy 80s styling, Angela Bower is BRINGING. IT. I love this McQueen gown so much. The embellishments
look like a necklace
. This is basically my perfect dress. I have always liked Judith Light but now I love her forever.
Samuel L. Jackson!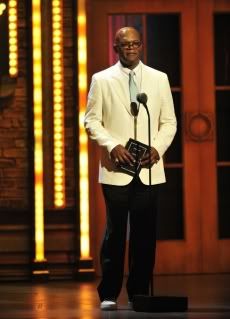 Like so many things in Samuel L. Jackson's career, this shouldn't work but it really does. Yes, even the spiffed up kicks.
THE MEHTammy Blanchard!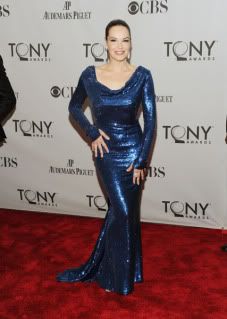 While I love blue sequined lamé as much as the next girl, it appears that Tammy let the chorus of
Priscilla
style her. Here's the ish: with the cut of this dress, you need a little more hair going on so you don't look like you have linebacker shoulders. Balance is key, especially if you are Great of Boob and Small of Hip.
Montego Glover!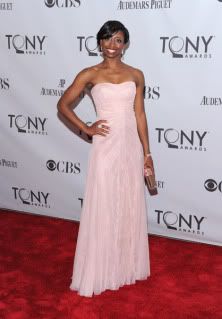 Pretty girl, pretty dress, needs a necklace, zzzzzzzzzzzzzzzz... I fell asleep.
Edie Falco!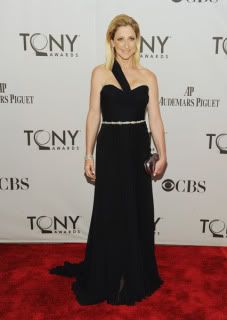 You'd never know Edie just finished logging 2 hours on the elliptical before hitting the red carpet. Oh wait, are you looking at her hair? Nevermind.
Viola Davis!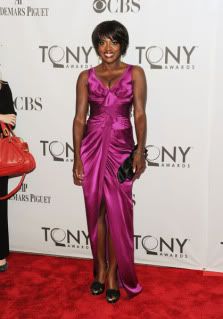 This woman can do vibrant silk like no one else. I'm just not sure about the construction of the dress. It seems unfinished, like it was tacked and she was sewn into it. I think the problem for me is the draping on the hips - it's uneven and doesn't look polished. And the slit hits in an odd spot and the shoes seem a little fussy for everything that's going on with the gown. That said, her makeup is perfect (how many lipsticks did she try before she found that one?) and I really really really want her haircut.
Jennifer Damiano!
Pretty dress, needs a necklace, should have worn those shoes in red or blue.
Anika Noni Rose!
Pretty dress, lovely cuff, I like the flower, shoes with bows (I love that)... but nothing really goes together. Each piece is lovely on its own, but there is no continuity from head to foot, which makes it seem amateurish.
Elizabeth Rodriguez!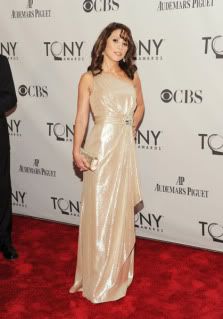 Beautiful dress but
so shiny
and way too close to her actual skin tone to pop.
Marg Helgenberg!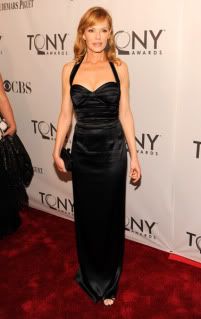 Snoozefest. But damn if girlfriend doesn't look amazing.
THE BADBrooke Shields!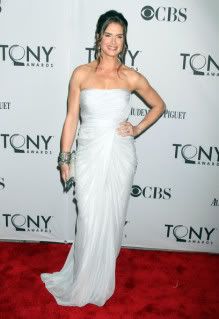 I like Brooke Shields, so I'm going to keep this as nice as possible. EVERYTHING IS WRONG WITH THIS.
Lily Rabe!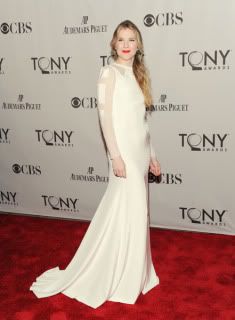 Again with the too close to your actual skin tone! Ugh, this is just depressing. And that lipstick! Get the smelling salts, I'm going to pass out!
Kelsey Grammer's Wife Person!
That. Dress. Doesn't. Fit. Also, Courtney Love wore it much better in 1996. Now
there's
a sentence I don't write every day!
Joanna Lumley!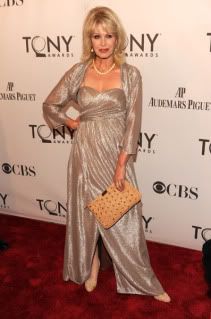 Oh dear god. Oh girl, oh no. Joanna, repeat after me: La Croix sweetie, La Croix.
Christie Brinkley!
This actually happened. It's like, "Hey look! A blousy blonde falling out of her prom gear! ..... Ohmygodit's
ChristieBrinkley
." I will give it to her for the FABULOUS necklace and the fact the girlfriend really knows how to work the cameras:
BUTT BOW!!!!!!
Whoopi Goldberg!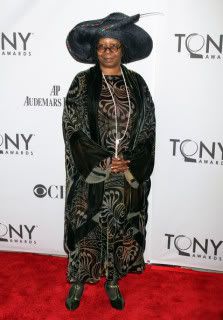 Okay, Whoop. We get it. You can't be forced into the trappings of celebrity. You march to your own drummer. And that drummer plays for The Weird Sisters. (Boom! 2 Harry Potter jokes in one day!)
Vanessa Redgrave!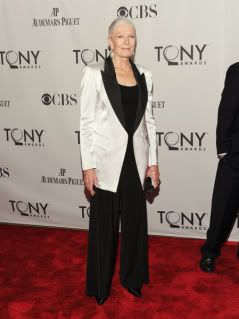 Largest jacket ever, yes?
Al Pacino!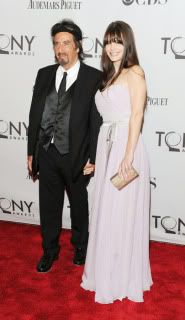 The suit doesn't fit, he missed the last button on his shiny-shiny vest, the knot on his tie is way too small for the rest of the "look," and I kid you not that is a headband. Head. Band. Al Pacino. Headband.
Frances McDormand!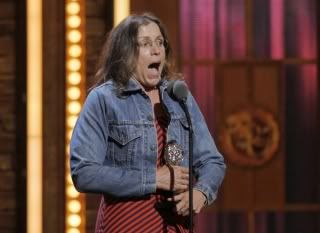 WHAT THE Fff- let's pan out, shall we?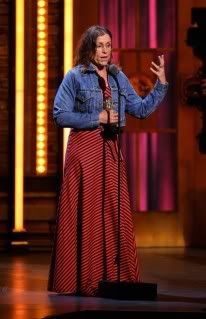 WHAT IN THE NAME OF YALE SCHOOL OF DRAMA IS THIS CRAP?! It's a maxi dress, paired with a
cropped
jeans jacket. Hair is not brushed, no discernable makeup, everyday glasses. At the Tonys, for crissake. This is straight up the worst thing I have ever seen at an awards show - and I just saw Al Pacino in a headband! Oh my god, I don't know that I'll ever be able to get over the absolute insanity of this outfit where there are television cameras and you know you are going to have to get on stage and speak. This outfit at the grocery store? Kind of embarrassing but whatever. This outfit at the Tonys? FOR SHAME, Mrs. Coen.
Okay, I have to be real with you guys. It's a horrifying outfit but when I saw this, I was like: