It's a special day here at Way Too Shay! I am completely swamped by work and life so you get to be the fashion judge. In exchange for your sure to be right on the money comments on the below "fashion," I promise I will get you a Rules post by tomorrow afternoon.
So! What do you have to say about Jill Larson, star of All My Children, seen here at the recent Daytime Emmys?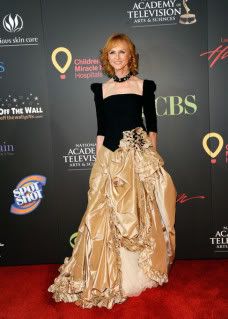 I mean, what is there
not
to say, right!? Have at her!