WHAT IN THE NAME OF ANNA WINTOUR IS GOING ON HERE!?
Pleated. Denim. Capris.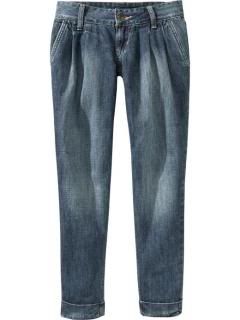 PLEATED.
Look, guys. I know we're in a moment (that seemingly
will not end
) where the 80s and early 90s are so very back. This fall's big trend is brights with brights. (Well, to be honest, that was supposed to be the
spring's
big trend, as demonstrated by what they did to our dear pretend best friend Tina Fey on the cover of
InStyle
...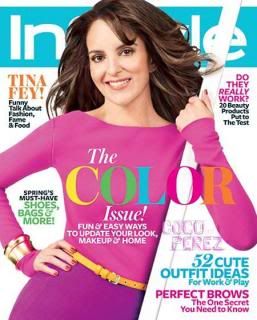 I'm not exactly sure what Tina did to deserve this...
)
All things old are new again. Nick at Night is now showing
Clarissa Explains It All
and I made a bet with one of my best friends that if I make my goal weight by September 1, she and I will wear rompers for the first night of the
Fringe Fest
. I don't know what I'm supposed to get out of this bet, by the way. If I make my goal I get punished. This has happened before with her - I bet her we wouldn't have a theater set deconstructed in record time and if we did I would buy everyone pizza. So guess what? Everyone worked really fast and really hard and then I had to buy everyone pizza. And now I'm only 4 lbs away with a month to go and it's looking like I will be spending money on a deplorable item of clothing. Someone explain why I make stupid bets with Sara?
All of that aside, I implore you all to NOT fall into the pleated denim capri trap. They are evil and waaaaaaaaaayyyyyyyyyyyy too shay.