Because it is DELICIOUS.
This morning I posted to Facebook a query of what I should talk about on WTS today. I got a few suggestions, including the title of this post. Let's go through them, shall we?
Pork Belly
My favorite pork belly dish in the city was at Chew Man Chu, which has sadly closed its doors. I had an amazing bahn mi with pork belly a few months ago but I can't remember where and that is KILLING ME. The 10 Hour Pork 'Kakuni' at Morimoto is a real can't-miss. And my friends Anthony and Rosey have both been experimenting with their own pork belly adventures. That exhausts my knowledge of pork belly - but not my enthusiasm!
To iron or not...
Here's the thing: I don't mind ironing but it's a hassle. What I try hard to do is get the laundry out of the dryer immediately and then put the things that wrinkle hardcore on hangers in my closet as fast as possible. That's not always practical, which is why I usually am dragging a tshirt into the bathroom with me before a shower. This morning I was torn between 2 shirts to wear with my black pencil skirt: a green v-cut stripey shirt and a white classic t. I put them both on hangers and hung them outside the shower curtain and closed the window. I took a steamy shower and decided that the white shirt had relaxed more wrinkles than the green, so that is what I wore today. Fashion decisions! Obviously, I had to jazz it up a bit so today I am experimenting with a tucked in shirt under pencil skirt and a gigantic green beaded necklace. I think it's working for me.
Pop culture. Anything celebrityish.
I can tell you that at the very least I know one person who will be very glad to have
Casey Novak
back in the courtroom on SVU. I am completely devastated that Chris Meloni is leaving the show, though I suppose that will give him more time to fondle his sweaters and hump his fridge.
In other pop culture news, I watched Access Hollywood last night for about as long as I could stand it before my brain leaking out of my ears. They were doing a feature on stunning celeb transformations featuring Jordin Sparks, Jennifer Hudson, Sara Rue, and Kelly Osborn. After basically showing footage of all of the women in bikinis (except JHud because she is classy like that) they went on to exclaim over how much weight each woman lost in a way that really sounded a lot like "CAN YOU BELIEVE WE LIKED THEM EVEN WHEN THEY WERE FATTIES!?" I turned it off when the pre-commercial teaser promised they would come back with the verdict on who had the MOST stunning transformation. I think all of them were hot before
and
after and I can't figure out why it has to be a competition.
That said, the vintage bathing suit Sara Rue was wearing in this "feature" was absolutely adorable and I covet it. Also her hair. I covet her hair.
How to pack for a 10 day trip...
Yeah right, as if I know. When I went to Chicago I was not prepared for it to be 40 degrees and raining the whole time. Here is a photo of me putting on socks ON THE STREET to wear with my OPEN TOED SHOES so I could be warm.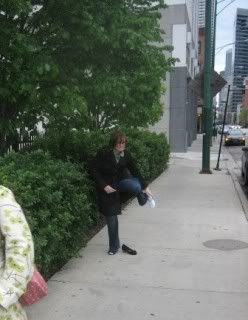 Not the highest fashion moment of my life.