I received a hilarious text yesterday from a friend proclaiming that it was time to face the facts that she has no idea what bra size she wears. I can't help her because I'm having the same conundrum lately. And
I know
I should go to some fancypants shop and get measured but it just seems like such a hassle. This text got me thinking about undergarments and so I present to you:
The 5 Kinds of Underwear Women Own
I Am About To Get My Period Like Any Minute
Cotton, busted and possibly frayed elastic, wan peach color or similar.
Oh My God It Is So Hot I Can't Believe I Have to Wear Clothes
Cotton, a little bit loose, preferably white because somehow the idea of dark colors attracting the sun applies to undergarments as well as tshirts. For some women, this might mean thongs because there is less fabric.
I Am Awesome and Quirky - The Day Is Mine!
Flattering cut with cute stripes or an ironic phrase on the front or back. Could also be some sort of retro thing. I knew one girl who could fit into boys' Spiderman underoos. I was really jealous of her.
Someone Else Will See These but Has Seen Everything Before
Black, flattering to butt.
Someone Else Will See These for the First Time!
Also known as Five Minute Underwear. Uncomfortable but pretty. Can really only be worn for a maximum of 15 minutes. You know those old movies where the sultry lady says "Let me slip into something more comfortable?" With the exception of Annette Bening in
The American President
, that "something more comfortable" is almost never comfortable at all.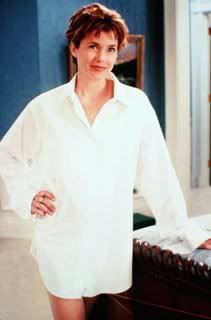 Annette, you win.