*well, you know...almost.
This past season I cut Jane Lynch off from my red carpet coverage because she had hurt me too many times with heavy, unflattering looks. I didn't want to do it, but it was for her own good. I have loved Jane Lynch since she first introduced us to dog trainer Christy Cummings, but I have never loved her on the red carpet. UNTIL...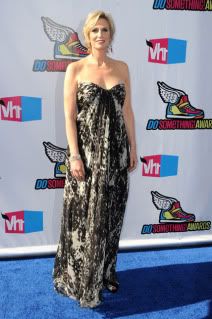 What a great look that could use a necklace instead of big earrings! Welcome back to the
red
blue carpet. Your probation is over.
True Confession
My dear 6 readers, I have to confess something to you. I went to a friend's wedding this weekend and betrayed my own advice/rules. I didn't have room in my bag for flats AND my shoes were threatening to rip off one of my toenails (not a positive quality in a shoe) so... I hit the dancefloor with bare feet. Oh, and I hit the dancefloor HARD. You know what, though? I may be a hypocrite about the shoes, but I wore 2 necklaces. Seriously.