I can't lie to you: I had a lot of trouble coming up with something in pop culture to write about today. You actually probably know this because I asked for suggestions on Facebook and, uh, everyone who reads this is probably also my Facebook friend. (Or as they call it on SVU, FaceUnion.)
Here were the topics suggested:
1. Pop rocks.
2. Pop Corn.
3. Scrunchies and rolled up pants with bobos.
4.
Elf
. Specifically, its inferiority to
Christmas Vacation
and
A Christmas Story
.
5. Celebrity Rehab Season 4, specifically the inclusion of reality tv stars as "celebrities."
6. Recent Hollywood divorces
7. Why is Madonna opening a gym?
8. The weirdness of Vince Neil on ice skates
9. Anne Hathaway and James Franco hosting the Oscars
I couldn't pick one, so let's just hit them all, shall we?
1. I
love
Pop Rocks. I think they are totally amazing, especially the watermelon ones. I know you are supposed to open your mouth so you can hear the sound, but I prefer to press my tongue to the roof of my mouth so they explode against my soft palate. Goodbye, soft palate!
2. I was delighted to find that my new roommate makes popcorn the same way I do: on the stove with olive oil. We have a cute little container of kernels and she delightedly told me they are supposed to make GIANT POPCORN. But! I do Weight Watchers - which, by the way, just unveiled a new
totally wack
points system....
-SIDEBAR-
You guys, Weight Watchers is messing me up right now. A glass of wine used to be 2 points and now it is
4
. Unacceptable.
-END SIDEBAR-
Back to popcorn. I do WW, and because olive oil costs a lot of points, I have been trying not to also put delicious melted butter on my popcorn. I recommend chili powder if you are in a spicy mood or cinnamon if you want a sweeter treat. Pumpkin pie spice also works.
3. I totally forgot that I used to call those little tennis shoes "bobos." I am now transported to 6th grade when I had the
coolest
scrunchie and I practically lived in my bobos on the weekends. I drew the line at rolled up pants, though.
4. I feel like
Elf
is a fine movie and a modern Christmas favorite. I laughed so hard at "I like to whisper too!" I happened to be in New York, walking by the theatre, when they were putting up the marquee for the new Broadway musical version of
Elf
. I thought, "Hmph. Is this a good idea?" I'm pretty sure it's not for me, but I'll bet they are going to make a pile of money off all the families that travel to Macy's to get a picture with Santa and want a little culture to round out the day.
Comparing
Elf
with
Christmas Vacation
and
A Christmas Story
is a little more difficult. Sure, they are all Christmas comedies, a little bit irreverent and genuinely loved by kids who think it's funny if you a)go around a revolving door so many times you throw up, b)electrocute the family cat, or c)get your tongue stuck to a pole. There are plenty of grown-up jokes in all of them to appreciate as you get older, too. I don't know that the relative holiday value of the latter two movies are threatened by
Elf
, but I also can't quite see choosing
Elf
over the Griswalds. ESPECIALLY considering how freaking cray-cray Randy Quaid has been acting lately. That just lends another flavor to their bizarre family.
5. Remember when
The Real World
was the only reality tv option? Now people hop from show to show, cultivating their status as "reality stars," which is a
weak
excuse for fame. Of course, I read all of the blog postings about how the producers were having a hell of a time rounding up enough willing to be compared to Kenicki for this round of Celebrity Rehab. Indeed, Keyshia Cole's
mom
is one of the stars this time. **Okay, all that said** I am totally conflicted about this show. Rehab is really important and I'm not exactly sure turning it into entertainment is a good idea.
6. Regarding recent Hollywood divorces: Oh my god, David Arquette, stop talking! Just stop!
7. Why is Madonna opening a gym, she asks.... Because, dear reader, the most memorable music she's put out in the last five years was only a hit because it was a duet with Justin Timberlake. What she
has
been concentrating on are those terrifying arms. It sort of makes sense, though I would probably drop dead from exhaustion in the first five minutes of any zumba class Madonna ran. Why the gym is in Mexico is another question. And why people have to wear all black to work out there is perhaps the best question of all.
8. I am
so sad
that I don't have tv right now because OH MY GOD I LOVE BAD FIGURE SKATERS. And Vince Neil seems like he would be my favorite on Skating with Celebrities. God love you, stunt programming.
9. It's possible that I am the only person who feels this way, but I am really, really excited that Anne Hathaway and James Franco are hosting the Oscars this year. I am deeply devoted awards show fan, and I feel like they are going to bring all the pretty to the telecast. It's also entirely possible that Anne Hathaway will bring all the awkward and James Franco will decide this gig is the perfect feather in his performance art cap and will bring all the weird. I am so into awkward and weird. This is perhaps why I loved John Stewart as the Oscars host lo, those many years ago. ("Night of a Thousand Sweatpants") I really hope that Anne Hathaway has a chance to do her Katie Holmes impression again. That is genius.
Also, Anne Hathaway, if you are reading this, I cannot stress enough that I need you to wear a very dramatic Oscar de la Renta gown. Or stick with Armani Prive, like your nomination year dress - girl, that was stunning. AND DON'T LET RACHEL ZOE STARVE YOU.
Here's the Armani Prive -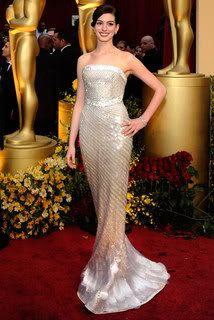 Oh, and James Franco- if you are reading this, I think the boldest choice might be nudity. Give it thought.