While it has not been an absolutely amazing year for awards show fashion, there have been some standouts. If you read my livejournal (yes, livejournal) you know that I absolutely love awards shows but I love even more to judge awards show fashion. If you are new to my brain, here are things that may help understanding this end of year fashion roundup:
1. I pretty much always think that strapless dresses benefit from a necklace.
2. I freaking love Oscar de la Renta.
3. I love the bad fashion most of all.
Seriously, if the sight of an attendee makes me sharply inhale, it's a keeper. If the sharp inhale is followed by a solemn, "Oh girl, on no," even better. Here are my picks for favorite and "favorite" looks from the Golden Globes, SAG Awards, Oscars, and Tonys (my big four). Oh, also, I may include some of the original commentary because I am
lazy
.
The Good
(in chronological order)
Anna Paguin at the Golden Globes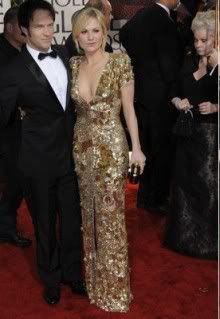 I love Anna Paquin in gold and that deep v with structured shoulders really works for her. This is a standout look for sure!
Sandra Bullock at the SAG Awards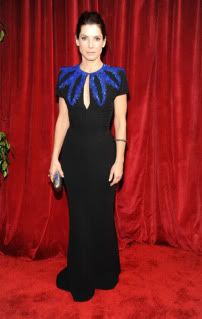 Very cool and polished, just like a star about to win every award known to actors. Love the black and blue and the exaggerated cutout.
Lea Michele at the SAG Awards
Girlfriend hit the red carpet running this year. In fact, she appears on my list twice. She has a knack for picking non-traditional red carpet colors and knowing what works for her body and skintone. I love how this dress flirts with the 70s without being a costume.
Cameron Diaz at the Oscars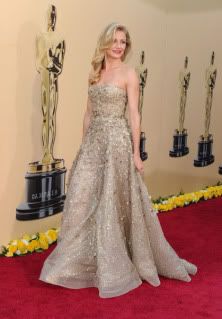 Perfect, perfect, perfect. How could she possibly go wrong wearing Oscar to the Oscars? This was the best red carpet look of the year.
Helen Mirren at the Oscars
It's actually true that I have a file of Helen Mirren red carpet looks saved
just in case
I should ever need red carpet inspiration. The woman owns formalwear.
Ryan Reynolds at the Oscars
What's that you say? You're newly single and know how to work a Tom Ford tux? Yes please.
Cate Blanchett at the Tonys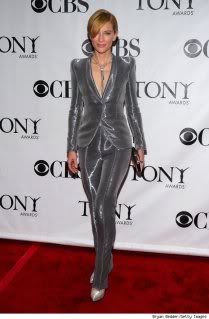 Sure, she may be doing an impression of that one time Ziggy Stardust merged with the Tin Man, but she is doing a hell of a job of it. I love the cut of this suit.
Lea Michele at the Tonys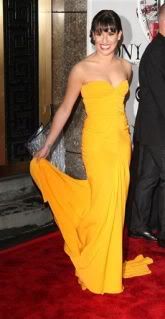 Love the color, love the silhouette, don't love the bangs but understand that was for the tv show. Well done, LM! But step it up, girl!
You are slacking lately.
Laura Linney at the Tonys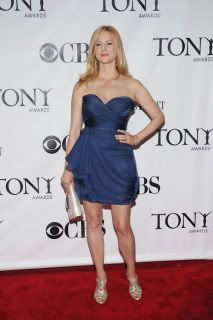 I don't know why I love this so much but I really do. It's a perfect shade of blue and the cut is youthful and breezy without feeling desperate and past it.
The Bad
(in chronological order)
Chloe Sevigny at the Golden Globes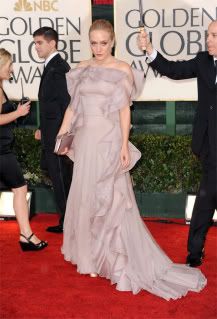 So, The Sev won a Golden Globe and on her way up to the microphone, apparently someone stepped on her dress. In what has to be one of the greatest acceptance speech openers of all time, she barely contained her rage as she spat into the microphone, "I can't believe he just ripped my dress!" As for the dress in question, it has a huge "wow" factor, as in "wow, that is fugly."
Cher at the Golden Globes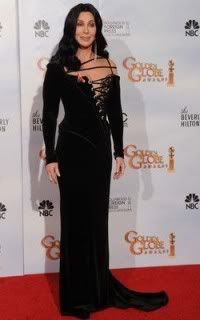 It's almost like Cher and Bob Mackie were in the Cherry Hill Mall and wandered into Hot Topic, where Cher said, "Look at these teenage goth fashions, Bob! Aren't they delicious?!" And then Bob Mackie said, "Grommets! Lace! Velvet! Off-the-shoulder sex appeal! You know, Cher, I'll bet I can make you a gown for the Golden Globes that incorporates all of this." And Cher clasped her hands to his face and said, "Would you? For me?"
Justin Timberlake at the SAG Awards
Sometimes I forget that JT once showed up on the red carpet in a denim suit with matching denim fedora. Then sometimes, I remember. Guess which time this is?
Sophia Loren at the SAG Awards
Now, we have learned many times over that when it comes to Sophia Loren awards show fashion, it could always be worse. But it could also be better. This selection for the "bad" category falls under the "awesomely bad," like Cher. I hope someday to be an aging sex symbol and dress awesomely bad...ly. Adverbs are hard.
Judd Nelson at the Oscars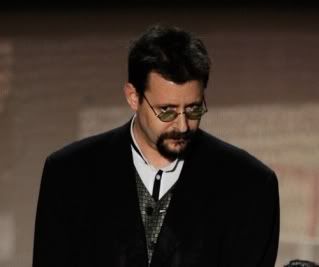 What the hell happened to you, Judd Nelson!? Why in the world are you dressed like you're going to a prom in 1992? Why would you wear a collarless shirt...unbuttoned? And with a high-button vest!? WHY ARE YOU DRESSED LIKE CHANDLER BING?
Hilary Swank at the Oscars
Hil? We already have a Pam Anderson.
Kathy Ireland at the Oscars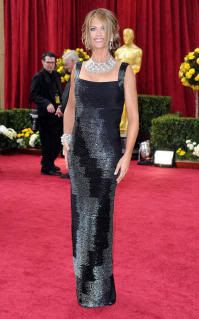 Not only is she guilty of egregious accessorizing, she was the worst red carpet host ever. The dress is a disaster and the hair and makeup just make me want to scream.
Diane Kruger at the Oscars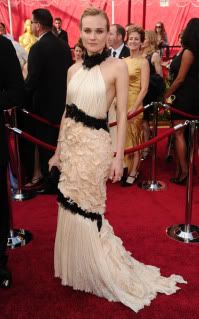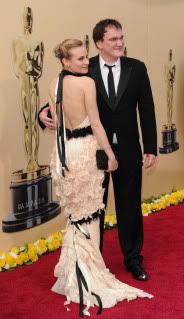 I appreciate couture fashion but some of it is frankly not appropriate to wear in public. I cannot believe Lagerfeld let her out of his showroom in this. For shame, Karl.
Sarah Jessica Parker at the Oscars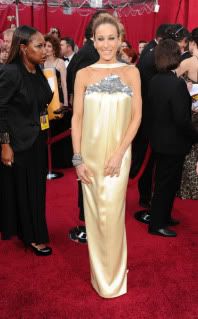 Bad hair, scary makeup, too many bracelets accenting the zombie hands, and a yellow sack dress. I'd say "does it get worse," but I'm afraid our Sarah Jessica likes a challenge.
Charlize Theron
Lilac cinnabusoms. The mind reels.
Linda Lavin at the Tonys
I challenge you to look at this ensemble and not pull a face. The only word I can muster is HIDEOUS.
Aretha Franklin at the Tonys
Oh girl. Oh no.
Jada Pinkett Smith at the Tonys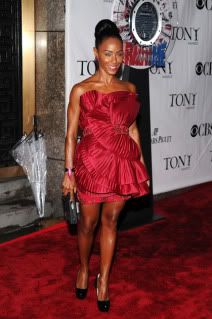 It looks like the Marchesa store threw up on her. Violently. And, I mean, her legs look amazing, but how is she supposed to whip her hair back and forth if it's pulled so tight? Jada, if you feel me, do it, do it, whip your hair.
Katie Holmes at the Tonys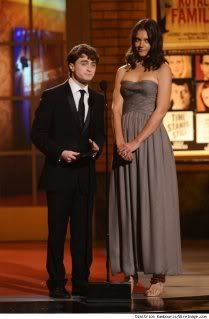 This, for me, is the worst look of the year. And not in a fun way. This dress, beyond being dreadful, does not fit her. It is too small in the bust, and about 4 inches too short. Her hair is a goddamn disaster, she's not wearing jewelry, and her makeup is non-existent. And then there are the shoes. Shape up, Joey Potter! I like it better when you let Posh Spice dress you.