This is probably my favorite picture of all time.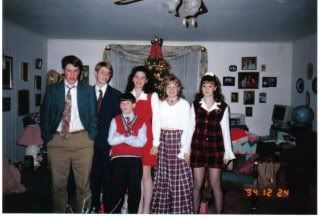 I come from a fairly large extended family - lots and lots of first cousins and more great aunts and uncles than you can count. I love seeing them around the holidays and I genuinely enjoy hanging out with my family. But Christmas, to me, is about the crew you see above. I'm only related to one of them by blood, but they're all stuck with me for life.
Starting on the left we have Scott - the oldest of the group - too cool for school in this photo (dig that tie) and now married with a son and another baby on the way.
Next up we have his brother Mike- probably the tallest person I know in real life- newly married to a girl with a fabulous name (yes, it's Megan).
Down in front is Nick, the bad boy of the group - check that attitude! Nick has grown up quite a bit since that photo and now rocks the salt and pepper hair and is about a month away from being an old married man.
In the red suit in the back we have his sister Lauren, the funniest and most sincere person I've ever known. We have been friends since we were babies, we were Barbie queens together, I was in her wedding, and I feel lucky when I get to spend time with her awesome husband and hilarious kids.
In the amazing plaid skirt is the yin to my yang, my sister The Jule. She and I have taken so, so, so many of these holiday pictures together - we always do our best to make a stupid face, just to frustrate Mom. Here's something a little more recent: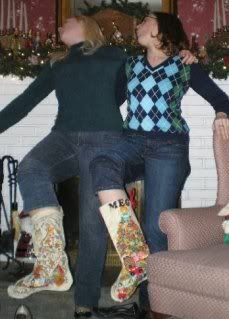 And there's me, all the way to the right, knees turned in, gigantic scrunchie, bell sleeves, bangs, black stockings - the pinnacle of fashion in the Juniors department. I'm pretty sure those sleeves came attached to the top. I
loved
that outfit and thought I looked so amazing in it. The scrunchie definitely is the cherry on this photo.
Over the past few days I've been trying to force myself into the holiday season. I have been listening to all of my favorite Christmas songs, riding my bike past all of the lights strung up over South Philly, but it's not working. I'm not feeling all humbug, I'm just feeling...
nothing
. I can't seem to choke out a fa la la to save my life. But looking at this photo this morning and laughing my ass off at how ridiculous we all looked, well, it's beginning to look a lot like Christmas.