Here's the deal: I am trying to get my own personal style in order. I am an urban woman, constantly out and about and I need to look at bit more...put together. Piece by piece I am reviving my wardrobe, but the process is slow-going. I am trying to build in longevity as well as snazzy style because, let's be real: I have been wearing the same pair of black pants since like 2003. They are faded but they are... fine? (Not really, I need to get some new ones obvs.)
My day job holiday party is tomorrow afternoon and we were specifically told in an email to "sport it up a bit." Which is
hilarious
. I have a dress all picked out (it's gotta be day-to-night, since I am also attending a friend's holiday party as her date), and I'm going to squeeze every last ounce out of the black tights and black heels with a dress trend, because that is cute and IT IS COLD.
-SIDEBAR-
I'm not sure why but I always feel warmer when I wear black tights as opposed to nude stockings. They are basically the same fabric, but maybe since you can't actually see my skin I think I'm warmer? Maybe it's like the time my freshman roommate and I went to New York wearing light jackets and
then it started to snow
. We spent hours freezing our butts off, singing "Miami" by Will Smith and trying to convince ourselves that it wasn't snow it was just ticker tape from a parade. Somehow that worked. And we weren't even drunk!
-END SIDEBAR-
So: cute 50s style dress, black tights and black heels. Actually, I prefer to say "pumps" rather than "heels." I like the throwback feeling to the word. Anyway! I am distressed to find that
I do not own plain black pumps
. How is this possible? I have a pair of silver platform pumps, a pair of silver peep-toe pumps, a pair of strappy, sexy gold pumps (which, for the record, I have never worn but have loaned out to many friends), a pair of glittery black strappy strappy heels (completely inappropriate for this outfit), and one pair of wedding-type black 4-inch heels that I have worn exactly twice and both times almost broke my damn ankles. Why in the world do I have so many dressy shoes when all I ever want to wear is jeans an an Eagles sweatshirt? What I really need is something like this: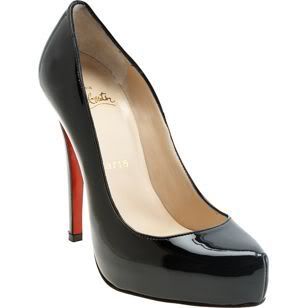 OBVIOUSLY I will be going to Ross Dress For Less or Burlington Coat Factory to find black pumps and they will NOT be Louboutins, but that's the idea. PS - if you live in Philly, I have to tell you that Burlington Coat Factory at 11th and Market has the best discount shoes in the city. Cheaper than Payless and the shoes I've gotten there have held up for years.