Okay, fight fans. We're back and here you go with your winners of the most lukewarm feelings I had about fashion at the Oscars! We'll start with what may be the most contentious.
Cate Blanchett!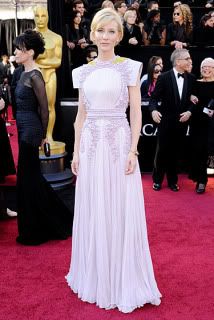 Apologies in advance to my friend Mordicai, because I know he loooooves this look. I think Cate is incredible and we can always count on her to do something terribly fashion forward at the awards shows. This one just didn't hit the mark for me. She looks beautiful, but I simply don't like this gown. It's like a fabric fish bowl somehow made its way onto her torso. I will say that her jewelry is PERFECT, though. Sooo close to the Good pile.
Zoe Saldana!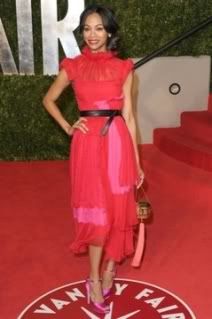 Such a step up from last year's monstrosity, but still... not quite there. There's too much going on here with the Victorian frilly high collar and the fabric falls in different colors. What sends me over the edge is the belt - it's completely in contrast with the romantic feel of the rest of the look and not in an exciting way. And what in the world is that bag?
Virginia Madsen!
While it's better than the saloon owner's widow look we saw last year, it's not better by much.
Celine Dion!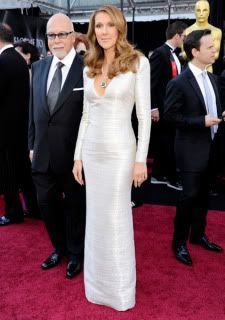 She looks like an automaton. And lady, please, stop wearing that necklace from
Titanic
. WE REMEMBER. WE PROMISE.
Busy Phillips!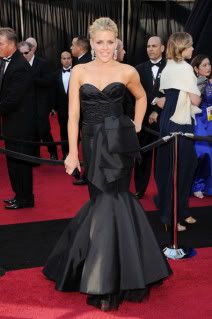 Oh Kim Kelly, you look like a hot mess. Great earrings, but this looks like someone tied some twine around your knees and you're going to have to hop around all night. The dress itself is not flattering and your retro Sharon Stone hairdo is not helping matters.
Anne Hathaway!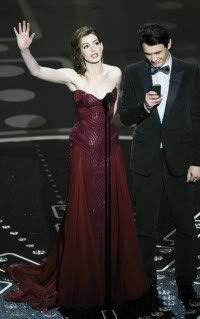 Not a favorite of mine. I love the detail on the bodice but the color is not great for her.
Annette Bening!
Sadly, our Annette again lost most of her arms as the victim of a tragic red carpet accident. I don't know why in the world she chose to wear this to the Oscars and that fabulous gold to the SAGs. I mean, maybe she thought she'd actually win the SAG and she knew La Portman was a shoe-in for the Oscar? Is that what it was? This dress does nothing for her. Even with the sequins it seems dull and depressing.
Gayle King!
Every time I think of Gayle, I can only picture one of my favorite Top Cheftestants of all time yelling for a different Gail.
The green is very pretty, but the cut is doing nothing for her. The hair is
okay
, makeup is pretty horrid. I will say that Gayle has the fanciest gold business portfolio I've ever seen. What? That's her purse... You have got to be kidding me. GAYLE!
PS- Oprah's like officially out now, right? Bringing Gayle to the Oscars?
Florence "And the Machine" Welch!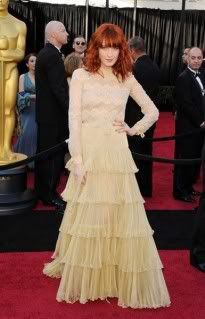 She's very pretty but Fancy Little House on the Prairie should be
no one's
choice for Oscar chic. I really love her hair, though. And her music.
Charlize Theron!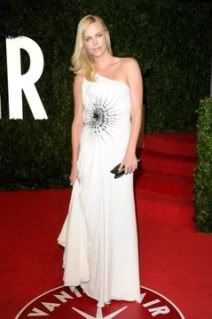 A definite step forward from the whole Cinnabusom incident of 2010, but such a boring step. It looks like a Pier 1 mirror is exploding from her side.
Halle Berry!
The good news: She remembered to put on her dress this time. The bad news: Her cat got to it first.
Cheryl Hines!
WHO THE HELL INVITED CHERYL HINES TO THE OSCARS? And why did she come in a Busy Phillips costume? Her necklace is great (and appropriate), I will give her that. But that's all.
Mandy Moore!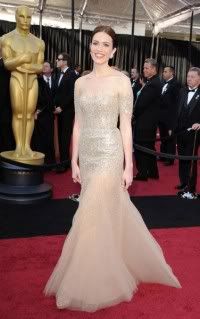 That is some serious illusion netting. It's like she took a really fantastic figure skating costume and glued some tulle on the bottom. And then absolutely
assaulted her face
with makeup. The grandma earrings and Mama's Family hairdo are not helping matters. Mandy Moore! What are we gonna do with you?
Hilary Swank!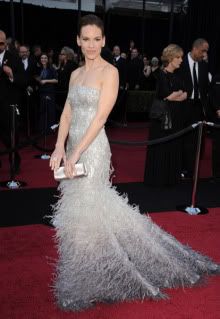 Ombre, muppet, severe hair, necklace, zzzzzzzzzzzzzzzzzzzzzz. Sorry, I just fell asleep.
Anne Hathaway!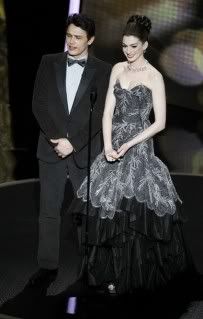 To my mind, the least successful outfit of the night. I don't like the two-tone tiers, I hate the hair, and it just sort of looks wonky on her. But! Love that necklace.
Helena Bonham Carter!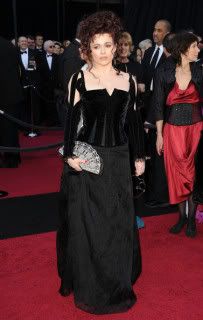 This is merely
okay
. I like the corset top with shredded sleeves and you can't go wrong wearing a gown by the woman who wins the Oscar for costume design. The fan is a step in the "right" direction but I was hoping for something a little more craz--
Muuuuuuuch better.