I know all 5 of you have been waiting for this so here it is: the worst of the worst from the 2011 Oscars. Let's start with a true tragedy, shall we?
Kathryn Bigelow!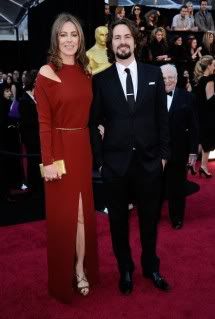 What? No! While I'm glad she didn't choose this thing last year when all eyes were on her, it's still not right to wear something this casual, this whack when you are a presenter. It comes down to the shoulder slits for me. It's almost as if this was a whole dress with no slits and someone said, "You know? Let's make this more interesting without giving one thought to what this will do to the cut of the sleeves." AND THEN LET'S THROW A BRONZE WHIP AROUND THE MIDDLE AND CALL IT A BELT.
Sharon Stone!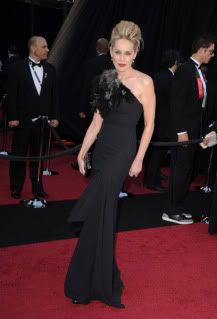 Ms. Stone is modeling the very latest in Patricia Arquette's face, post-
Jersey Shore
bouffant, and a skunk pelt shoulder accent. We will always love Ms. Stone.
Oprah!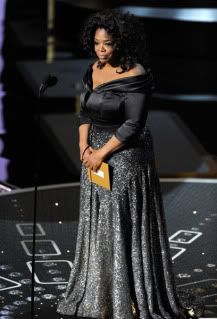 More like NOPErah! The neckline was nice, though I would have liked to have seen a necklace. That's about where the compliments end for Ope. The top was too tight and her boobs were forced into an uncomfortable-looking extreme football shape. And the skirt (in this photo especially) looks like the world's sparkliest octopus arranged
just so
around her waist. Also, on the telecast, she looked plum tuckered. You guys, it's hard to be a mogul. But a woman with her connections and her money should never have to endure this dress.
Michelle Williams!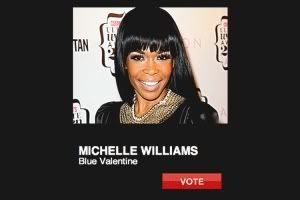 JUST KIDDING!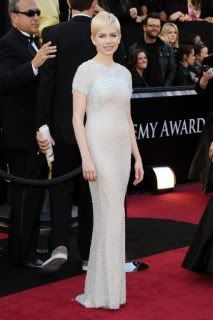 Firstly, I am convinced that she has lost her smile memory. She used to be able to smile sincerely in photos, but now it just looks like she's in pain. Secondly, this dress is giving me a headache. The color is all wrong for her, and there is absolutely no excitement in this gown. I think perhaps I just don't love Chanel on the red carpet. Remember the Kirsten Dunst Oscars 2007 Chanel disaster?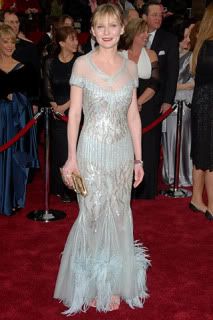 I wish I could erase that whole look from my brain, but alas, that is what comes to mind when I think of Kiki.
Anne Hathaway!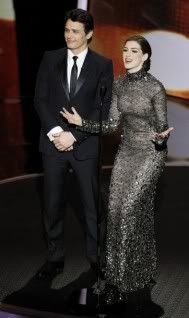 Anne, never ever let this happen again. You are not latter-day Judy Garland. This is a terrible look for you.
Melissa Leo!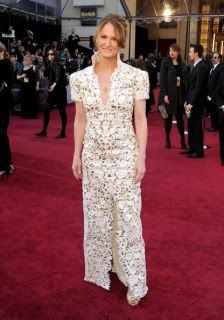 Welp, we figured it out: Melissa Leo is one of those kooky actresses. That might explain why she showed up in the formalwear version of a Sandra Lee tablescape. At least she wore a necklace. And dropped the F-bomb! That was hilarious.
Scarlett Johanssen!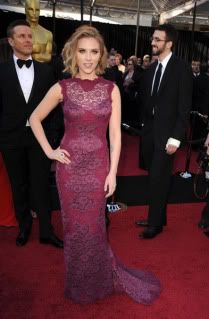 I directed this show a few years ago where we made the walls out of maroon lace so you could see the shadows of people lurking in the hallway or spying or whatever. We didn't have a big budget, so my friend Gigi had to line up the designs on the lace by hand and it just about made her insane. Had I known that 5 years later ScarJo would wear those same walls as an Oscar dress in her Depressing Divorce Fashion Tour 2011, I probably would have praised Gigi's work a lot more.
Marisa Tomei!
She was all, "It's vintage!" and I was all, "It doesn't fit!" The bust is roomy while the midsection is pulling. Vintage explains the fade on the skirt but doesn't explain why she didn't bother doing anything with her hair. Ugh! Tomei! No!
Nicole Kidman!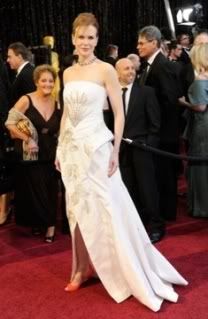 The detail work is pretty, but the construction is Hips Ahoy, which we know is not at all what La Kidman is packing. Makeup too severe, hair disaster, I'm exhausted. Nicole, you know I cut Jane Lynch off from awards show red carpets. Don't make me do the same to you.
Sunrise Coigney!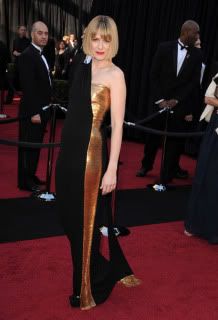 AKA Mrs. Mark Ruffalo. AKA my pick for the worst dress of the night. Not the worst dress
ed
, because I think her hair and makeup are spectacular. It's this dress. Perhaps you cannot see it very well in this photo, so allow me to describe what I imagine happened. Sunrise put on a gorgeous, form-fitting gold strapless gown. Then she got cold. So she asked to borrow Mark's overcoat. She got the overcoat halfway on when she was besieged by a throng of photographers. So she went with it and called it FASHION. That is the only possible explanation I can come up with for this... "dress."
Okay, so there was a little bit of controversy yesterday because I didn't realize that I had included Vanity Fair party photos in the mix of The Meh. I had actually pulled a bunch more for The Bad (because OH MY GOD JENA MALONE) but I don't feel that it is appropriate to include them in this red carpet coverage.
Except...
Rita Wilson!
Holy. Crap. The print! The fringey bag! The bangs! The sandals! Oh girl, oh no.
okay, okay, one more...
Jena Malone!
This is the fashion equivalent of shouting "OH MY GOD! SHUT UP MOM!" and slamming the door to your bedroom.