First of all,
I know
you are waiting with bated breath to see how else you can marginalize yourself in a relationship in order to score an expensive ring and
I promise
I will pick back up on blogging
The Rules
very soon. But in the meantime.... THE MET BALL! Every year the Costume Institute of the Metropolitan Museum holds this gigantic ball to kick off their exhibit and it's basically the fashion industry's prom/costume party/most high-pressure red carpet event of the year. Yes, even more than the Oscars because all of the designers are around along with Anna and Andre and all of the movers and shakers of the fashion industry. Celebrities, models, musicians, and socialites all walking the red carpet, trying to outdo each other. This is a very couture-friendly event. One of the only times a person can wear a gigantic kilt over a party dress and make top marks on every fashion radar.
(It helps if you position yourself next to Alexander McQueen in a matching outfit. RIP)
This year, there were some good frocks, some Royal Wedding-inspired hats, and also some really amazingly weird dresses. The exhibit this year is all McQueen, but since his most amazing stuff is in the museum, we didn't get too much of him on the rc. Also that would be a little bit like wearing the band's t-shirt to the concert. You don't want to be That Guy in front of Anna Wintour.
I decided to only pick three to profile because if I tried to do them all I would be blogging this for about a month. The girls over at
Go Fug Yourself
have so many more up on their site and they are hilarious, so please check them out for extended coverage. Let's get to it, shall we?
Best Dressed of the Night: Madonna. Seriously.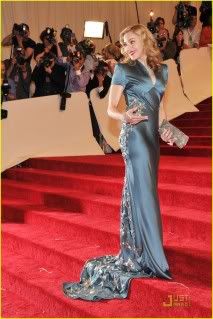 Yes! The color is divine on her, the embroidery detail is incredible, the silhouette is at once sexy and age-appropriate. Hold on. When was the last time anyone said that Madonna looked sexy and age-appropriate? Stella McCartney truly outdid herself on this dress for this woman. Paired with soft and glamorous styling, Madonna knocked it out of the park.
But here's where I have to worry about Madge. A reporter asks, "How do you feel in your dress tonight?" and she answers
"A little bit fat."
Oh Madonna, you have the Phantom Fat: no one can see it, but still you feel it. Stars! They're Just Like Us!
Ugliest Wedding Dress of the Night: Fergie Ferg!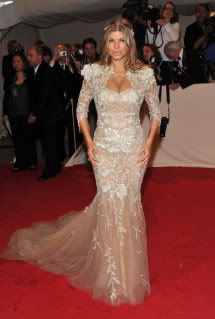 Many years ago, an evil witch saw Fergie frolicking among the flowers and trees of the forest, singing Guns N Roses songs. Incensed by Fergie's determination to forever kill "Sweet Child of Mine" for all who hear her sing it, the witch cast a spell on her and Fergie was swallowed by the forest and forced to live in a tree, singing only with the birds. One day, her true love set her free by answering her song with his own voice. And she was released from the tree and joined forever with her prince. And Marchesa made her this wedding gown to commemorate her time in the forest. Unfortunately, Fergie got some weird plastic surgery right before her wedding and everyone wondered what the hell happened to her chin.
WHAT THE WHAT?! Gown of the Night: Christina Ricci!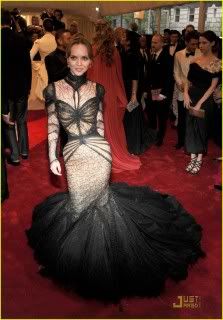 The sad fact is that Christina Ricci has been wearing this dress as a sign of protest ever since Julie Taymor was ousted from
Spiderman: Turn Off The Dark
.