Welcome back! Ready for round 2? Let's see some beautiful things, shall we?
Eva Longoria!
Best look of the night, for my money. She accentuated her teeny-tiny frame with a dramatic gown and got a little sparkle in there with the brooch at the sash. I love this neckline, and while you might normally hear me whining for a necklace here, Eva decided to use the necklace God gave her: boobs. Now
this
is the way you show up to an awards show post-divorce.
Amy Adams!
Love the color, love the cutouts on the fabric accents, love the soft hair. Very pretty, just like Amy Adams.
Chris Colfer!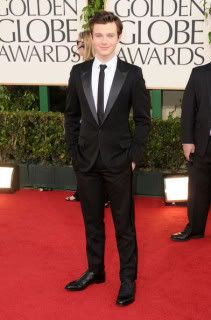 Not only did boyfriend look great in an off-the-beaten-track tux, he gave perhaps the best speech of the night. I love this kid.
Hailee Steinfeld!
Speaking of kids I love, this girl knocked it out of the park. It's a beautiful dress, appropriate for age and occasion, and I love her clutch and bracelet. Perfectly done, Hailee. Welcome to the bigs.
Andrew Garfield!
The pants are slightly too long - boys! Don't let pooling hemlines happen to you! But, ladies and gentlemen: your new Spiderman. Hell yes.
Dianna Agron!
How in the world does she get her hair to look so perfect? Girlfriend looks classic and poised and is wearing an absolutely beautiful
necklace
.
Jake Gyllenhaal!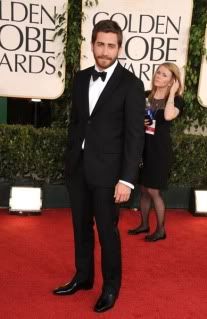 Did you guys see the E! red carpet interview where Jakey was flirting heavily with Ryan Seacrest? It was a phenomenal moment of entertainment. The tux is a classic, though he should have fixed his sleeve before the photo was taken.
Jane Krakowski!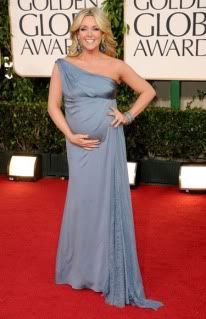 I had no idea she was pregnant! I mean, obviously I know now... This ridiculous pose aside, I thought she did pregnant formalwear extremely well - unexpected color and silhouette, and a little bit of interest with the lace.
Mandy Moore!
I'm not entirely sold on the hair, though I think an up-do may have overpowered the dress. I love the sheer netting over the bust and neckline, and I love this blue on her.
Robert Downey Jr. and Susan Downey!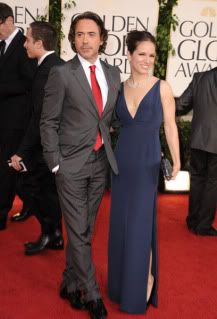 You guys, Susan Downey is a red carpet favorite of mine. She always looks gorgeous, event-appropriate, and totally polished. RDJ looks like he is embarrassing her half the time. But! I really liked his grey suit. I think the red tie was Too Much, but it's better than a baby blue bowtie,
amiright
?! Kudos, Susan, for putting up with that crap.
Sophia Vergara!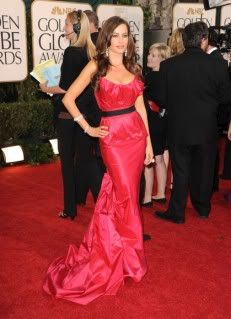 True story: I was watching The Globes with my girls (and the boyfriend of one of my girls) and it was just a parade of bad dresses on the red carpet. They kept shooting me furtive glances, to see how I was taking the absolute onslaught of fashion horrors. And then, Sophia Vergara arrived and we were all like, "THANK GOD." She looks like the siren she is - I love the corseting on the back and black sash. I would have preferred this in something other than taffeta, but I will take what I can get.
Ryan Gosling!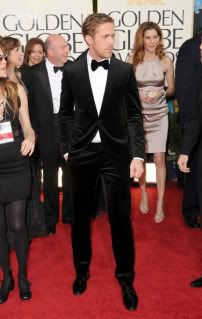 I'm not sure if you are aware of the
Ryan Gosling meme
but this should be added to it. "Hey Girl, Sometimes I like to pretend I'm James Bond."
Olivia Wilde!
I. Love. This. Dress. The hair? Awful. Hate the bangs, it's all wrong for the look. But the dress! Oh! Raptures! (Could use a necklace and an up-do.)
Joseph Gordon Levitt!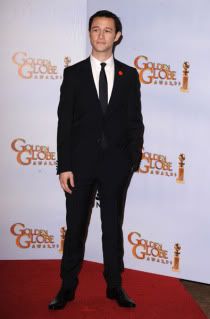 As a long-time fan of JGL (I'm talking way back to
Angels in the Outfield
), I am pleased to see him grow up to be a stone cold fox. Damn, boyfriend.
Kyra Sedgwick (seen here with Kevin Bacon)!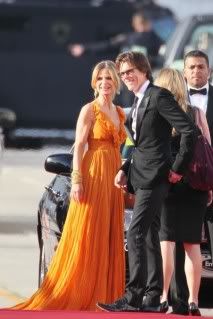 Love the cut, love the color, love the ruffles, love the hair, love the arm candy. Keep it light and flowy, Kyra!
Melissa Leo!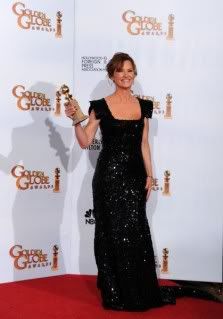 This is, in no way, a ground-breaking look. It's actually kind of boring. But compare to Melissa Leo at the Oscars in 2009, if you will: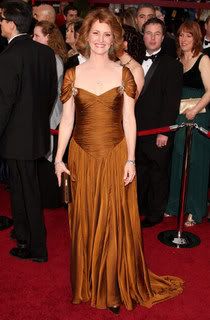 Now look back at the first photo. Absolutely amazing, right?
Amber Riley!
Yes! I love the shape, I love the color, I love the sparkle. Gorgeous.
Carrie Underwood!
More sparkles! I love sparkles. I love how rich this champagne color looks on her. The hair is a tad big, but she's a country singer so I think we can grade on a curve there. Say it with me now: could use a necklace.
Jon Hamm and Jennifer Westfield!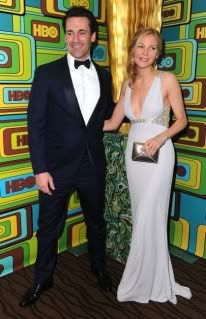 Truth: I prefer scruffy, bearded Hamm to super slick and put-together Hamm. But! He knows how to work a tux and she always looks amazing. I wish I could have seen her dress from the back because I bet it's cool.
Elisabeth Moss!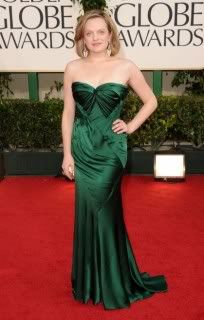 Not our most successful green dress of the night, mostly due to it being silk and wrinkling in the limo on the way over, but overall very beautiful and dramatic. Call me crazy, but I like the hair with this. I understand not wanting to do a necklace with big earrings like that, so I guess I'll let her get away with this one.
Chris Hemsworth!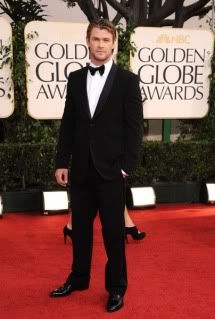 Hey Thor, you can hammer me any day... and I ain't talking about Mjolnir.
Jane Fonda!
The one! The only! She looks absolutely incredible. While I'm not sure I really like the space-age shoulder construction (more on that when we deal with our friend Anne H.), but I am always into well-done sleeves on gowns. On good days, my hair looks sort of like hers! (On bad days, well... Annette Benning. You'll see.)
Gabourey Sidibe!
Love the print, love the cut, adorable hair...don't love the shoes, but you can't win them all.
Mila Kunis!
This girl was working really hard to fake her way through, but you could tell in her eyes that she would much rather be home with a bottle of vodka, a pack of cigarettes, and the DVD of
Bridget Jones' Diary
. I just wanted to hug her and say that someday life would be okay and she'd be glad to see Macauley in her rearview mirror. I loved how this dress was constructed and I love the color. Her hair and makeup are fantastic, also. Good job, Mila. Hang in there, girl!
Tina Fey!
The more I look at this, the less I like it. I'm going to keep it in the Good pile, though, because I think our Tina needs all the encouragement we can offer, fashion-wise. Here's what's working: the hair, the color, the bodice, the jewelry. Tina! Please listen to me! Stop going to that makeup artist. S/he is
not helping you
.
Catherine Zeta Jones (seen here with Michael Douglas)!
CZJ knew her role on the red carpet: doting wife of beloved actor who is doing a great job battling cancer. Everyone wants to talk to Michael Douglas and tell him how great he looks and how glad they are that he's on the mend. CZJ just needs to smile and, when asked, say how much she loves him and how happy she is that he is getting better. So why shouldn't she look drop dead gorgeous while doing so? The dress is a marvel, dramatic and unique, and the earrings are absolutely to die for. Thank god she didn't try that match-the-eye-shadow-to-the-dress trick she pulled out for the Tony Awards last year. I wouldn't mind a necklace here, but the earrings are big and glitzy enough that I almost don't mind.