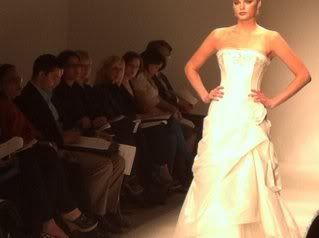 Thanks to my friend Elle, I was able to attend my first ever fashion show last week! That's me, third from the right in the front row of the Alfred Angelo Spring 2011 Bridal Fashion Week showing. See how I am paying attention like a good front row member? I've been making a list of what you do and do not do at fashion shows for years now.
DO:
* Pay attention
* Take notes
* Remain inscrutable
DON'T:
* Make "yuck" faces
* Talk to your neighbor during the show
* Let your feet/legs hang out over onto the runway
I did make one yuck face but it was involuntary and could not be helped. I am a rookie! The beginning of this show was the debut of their line of wedding gowns inspired by the Disney princesses. They have Cinderella, Ariel, Snow White, Sleeping Beauty, Jasmine, Belle, and Tiana. The Cinderella and Belle dresses are exactly what I wanted when I was 10 years old. They are poofy and pretty and the Cinderella dress
sparkles
. The Tiana dress is also poofy but in a more sophisicated way - little pick ups here and there. The Jasmine dress was very pretty and much simpler than the rest, but still with a bit of sparkle. Ariel was my least favorite, and I didn't love the Sleeping Beauty dress either - seemed kind of fussy. And there was something "off" about the Snow White dress.
After the Disney set, they showed about 35 different dresses - some bridal gowns, some bridesmaid dresses, and some party dresses. For the most part I found the party dresses to lack movement, though they were fun and pretty. There was one with a halter neckline that should pretty much be immediately planted in the closets of all lithe 25 year olds. Many of the dresses featured pockets, to which I say: YES. Please keep doing this! I (and most of the women I know) love pockets in dresses. While handbags can be fun and can certainly give a little extra punch to an outfit, it is kind of annoying to carry a bag all. the. time.
Here's something that was really cool about the fashion show - we were all provided with a packet of drawings of each dress in the order it was shown. That way we could annotate the ones we really liked or make important notes like, "buttons go all the way down the back and train." I don't know if this is just how fashion shows work, but it was BRILLIANT.
For me though, I loved being part of a crowd whose main purpose was to pass judgment. I was utterly engaged in the show and loved every single moment of attending. Thank you, Elle and thank you Alfred Angelo!