Oh dear lord, look what the cat dragged in.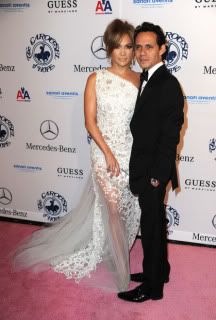 This, of course, is Marc Anthony and Jennifer Lopez at the Carousel of Hope Gala. Where do we even start? The marshmellow melt-away dress? The sheer skirt/train that is so long she's actually stepping on it? The Real Housewives hairdo?
I am so confused about what JLo is anymore- singer? actor? genius business woman? No matter which she decides she is this week, the fact is that girlfriend knows how to BRING IT on the red carpet. And if Senora Thing is
stepping on her crinoline
, it is the dress' fault, not hers.
Fortunately, Swiss Miss decided to change for her performance with her amazingly talented husband at the gala. Unfortunately, she settled on this:
And upon exiting the auditorium, audience members sitting in the front row were awarded degrees in gynecology. Oh yes, and you are not imagining things: that is
silver lame' fringe
on her sleeves.
Okay, these two outfits are pretty terrible but the truth is, I live for celebrities wearing this crazy stuff. Cupcake bras, silver lame' fringe, giant feather headdresses - where would we be without this kind of entertainment? Don't ever change, JLo. I love you just as you are.