As spring lurches in fits and starts toward Philadelphia, many things seem just a pollen-filled breath away. Evening strolls to the East Passyunk outpost of
Capogiro
, Saturday mornings spent watching cuties in tank tops reading in Rittenhouse, the smell of neighbors' grills all weekend, and - perhaps best of all - tooling around on my bike again.
I'm a fairly new bike rider and a sort of timid one at that. I don't bike when it's too cold, I don't bike when there's a chance of rain, I don't bike when I have people to impress because of the sweaty hair issue. Also, I always always always wear a helmet. I know far too many people who have been hit/doored/etc. on their bikes not to wear a helmet. AND I'm sort of uncoordinated, which just raises my risk level. I inherited my current bike and helmet from my ex-boyfriend, which was very sweet of him. The helmet is a little old and definitely not cute, so I've been keeping an eye out for something very safe and maybe a little bit fashionable for this summer's transportation. And thanks to
The Hairpin
, I have found
just the thing
!
Yakkay makes bike helmets that look like adorable hats.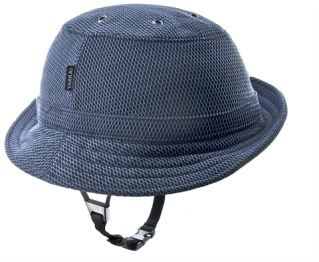 BOOM! Fashion and function! Yakkay, I think I love you.