This past weekend I took My Dear Friend to
Wishing Well
in the Italian Market (9th and Catherine) for brunch. My Dear Friend (MDF) and I discussed giving her a code name but I was taking advantage of the bottomless bloody mary bar and I don't remember what the code name was. Oh yes, you heard that right:
Bottomless Bloody Mary Bar
What's that you say? You don't like a bloody mary? Un-American though you may be, Wishing Well realized that not everybody likes their brunch cocktails with spice and also offers:
Bottomless Mimosas
For $15, you choose one of the two options and they just keep bringing you booze - it's genius. MDF went with the mimosas, pleasantly light orange. I have to say that I guess I didn't realize at first that there was a "fix your own bloody mary" thing going on, so I was a little confused when the (adorable, dreadlocked) waitress brought me A LARGE GLASS OF VODKA. The fixins are great - you can choose their pre-made mix (which is for amateurs), or they also give the following options (among others):
Tomato juice
hot sauce
worcester sauce
horseradish
celery salt
onion powder
old bay seasoning
pepper
olives
limes
lemons
celery stalks
pickled okra
aaaand probably a lot of other spices I ignored
MDF, a vegetarian, ordered the peppers and egg sandwich with roasted potatoes (they say home fries on the menu, but it's really those smallish quarters of potato). I ordered the burger with swiss cheese and fries. With places that offer these kinds of brunch beverage deals, I sort of expect the food to be lackluster. WRONG. Wishing Well is a
find
. Both sandwiches were served on the same toasted-and-crisp-on-the-outside, soft-and-delicious-on-the-inside Sarcones kaiser rolls. MDF reported her sandwich to be amazing and "not too eggy-tasting." As a person who doesn't like eggs, I appreciate that kind of an assessment. The burger was fantastic - hand-formed, juicy, and cooked to
just
medium, just the way I like it. In the middle of the burger was a surprise- curry powder. It was a nice little kick to shake things up in the middle of a delicious burger. The fries were great, and MDF reported that NOT ONE of the roasted potatoes on her plate were less than perfectly cooked. That, friends, is a miracle. We all expect roasted potatoes to come out with some of them being a little burnt and some being too hard and undercooked. Not this place. We were in love.
And then, after having our fill of bottomless drinks, MDF spent some money in Fante's and I bought boots. And then I took a nap. THE END.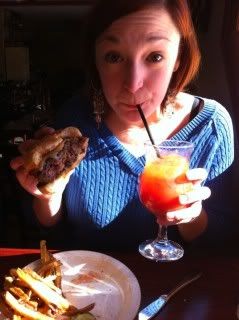 Go to Wishing Well!