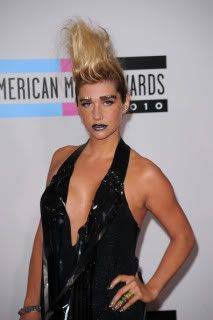 Oh, girl. Oh no.
Listen, I don't know anything about Ke$ha (seriously? $?) except that every time I look at red carpet arrivals for anything associated with popular music, she is the person that hurts me most. I mean, I can appreciate a woman who has a propensity toward props...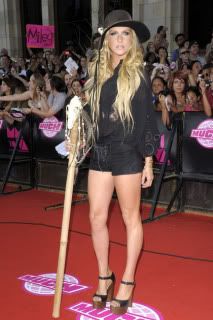 ...but I mean, a tiki god walking stick?
Severed head
?! I only barely got through Psych 1, but I know a cry for attention when I see one. Between the dollar sign in the name and the tendency to wear unflatteringly "outrageous" red carpet get-ups, I am going to declare our friend Ke$ha a bit insecure.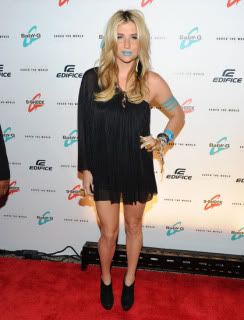 Lady, why? It's not even a complimentary color of blue on you. Cobalt would have been much better.
And this:
I'm not sure what I'm even looking at. It's a little bit like Tawny Kitaen IS
Rapunzel
! (For the record, I would totally pay money to watch that movie, but only if it was like 20 minutes long and featured the music of Whitesnake.)
The lead photo up there is from the AMAs last night and honestly, if she's simply looking for attention, well, she got it. I have a feeling that she probably doesn't feel very pretty next to the starved and airbrushed women in the pop music industry, and maybe feels like she can't compete with some faux-pinup who shoots sparklers out of her boobs. (This is my C+ in Psych 1 talking.) Stop this madness! I would like to offer you this challenge, Ke$ha: try to make waves next time by showing up looking absolutely glamorous. Remember how shocked we all were by this?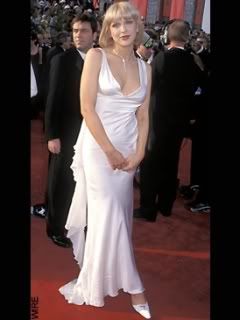 One of my favorite Oscar looks of all time. Learn it, live it, love it, Ke$ha!