Thank god for Sexy _______ costumes on Halloween, even if the party I attended veered more toward the hilarious than the sexy. The best costumes at the party were a couple of ladies who came as sister wives. Everyone went crazy over their denim jumper dresses! I chose to be....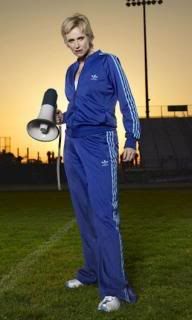 But! In a moment of genius a friend of mine suggested I go as
Sexy
Sue Sylvester! So I swapped track pants for track
shorts
and instead of wearing sneakers, I wore silver platform pumps. Alas, I have no photographic proof, but believe me when I say that Sexy Sue Sylvester was a hit.