So, remember when I was like "ooh, maybe I will get Docs and wear them with dresses!" last week? I totally got stuck in the 90s (in my head) and updated my Geocities page instead of this one! Just kidding, my Geocities page is looooong gone. It was a tribute to Molly Ringwald. Of course it was.
Anyway, sorry I disappeared last week but I have great news. I boughts boots! And after thinking about the Docs and Dresses argument for a while, I decided it would be more prudent to drink 4 bloody marys and then go to a local boot store and shop on impulse. And I ended up with these...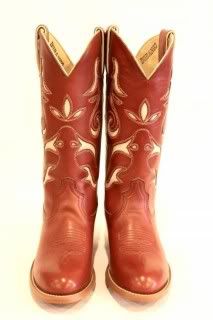 As my sister said after I texted her a picture of them, "It's love."
Thanks to the girls at
Puss in Boots
in the Italian Market! You ladies have some fabulous stuff in there!