As a child of the 80s, Princess Diana was better for me than any of the Disney princesses. Well, maybe except for Belle, because she was smart and liked to read and gave us nerdy children hope that someday we could fall in love with some burly, hairy dude who didn't have any table manners and that with one tearful kiss he would transform into a total hottie. Other than Belle, Di was the best. She was a real, live
princess
and she had the most gloriously over-the-top wedding gown in the world.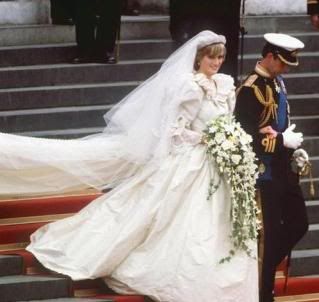 Growing up my greatest literary hero was Anne Shirley, so all I see when I look at this is PUFFED SLEEVES.
THE PUFFIEST.
This dress is the stuff that 80s dreams are made of - OH! and the maxxed out way-past-cathedral-length veil? Yes! You go Princess Di!
Now we have an imminent royal wedding and all [fashion] eyes are on who will design Kate Middleton's gown. The leading contender appears to be Phillipa Lepley. I did a little research into the PL couture gowns (
you're welcome
) and here are a few examples.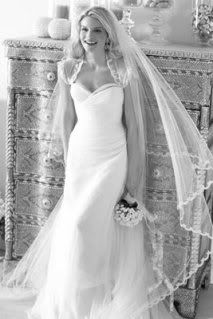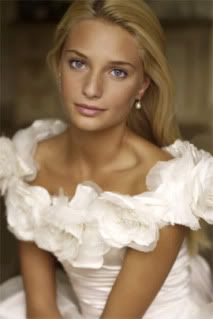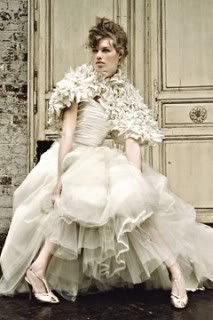 Can we talk about how phenomenally dramatic that cape is in the last photo? It's like she has a thousand flowers keeping her shoulders warm. I doubt I would be able to pull it off, but I'm sure Kate could do it. Damn it, I require dramatic fashion in a royal wedding! That first dress is so elegant; can't you just see the future queen working that down the aisle? And the pretty flower detail on that middle dress is beyond romantic. I'm sure that whatever she chooses, Kate will look amazing on her wedding day. If she decides to go for something with puffed sleeves, though, bring the smelling salts because I will simply faint from happiness.