Hi! I'm back from vacation and sorting through the amazingly bad Emmys fashion to bring you the full rundown of snark tomorrow. Why do you have that look on your face? Don't...don't you remember me? It's only been a week. And then there was a little break before that but...
seriously
!? Okay, let's play Getting to Know You.
I'm a Taurus, which means I enjoy things like luxury and comfort and being stubborn. In my case, luxury translates to decadent food and as much good wine as I can get. And being driven places (usually by the SouthEastern Pennsylvation Transit Authority). And cheese. Oh god, how I love cheese.
My biggest pet peeve is babies or animals who talk with adult human voices and, in the case of animals, are dressed as people. I cannot stand this. Correct, that means I hate the "art" of William Wegman and the Etrade baby can kiss my grits.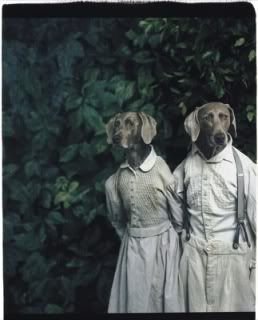 *shudder*
I truly do feel that a strapless gown looks incomplete without a necklace. It's just the way my brain works. I'm not exaggerating my thoughts on this for the purposes of Way Too Shay. Oh, but I never judge my friends for not wearing necklaces. Not ever. That really wouldn't be cool.
I like to re-read books and re-watch movies. It's incredibly difficult for me to delve into something new. But! If I do try something new and I like it, I will become obsessed with it. I'm in the middle of the first season of The Wire right now and I am completely in love with it. And with Omar Little.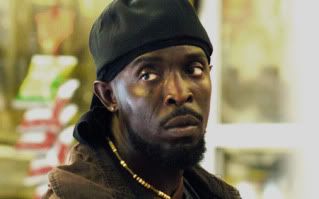 so interesting, so terrifying
I was taught in Catholic grade school that God would call each of us to a vocation. The way I understood it, we would receive some sort of secret communication that would light the path for what we should be when we grew up. When I was a kid, I wanted to be a nun so that I could be the really cool nun. I received a secret communication from God that said, "If you want people to think you're cool, do theatre." That God is a scream, huh?
I applied to the College of William and Mary because I wanted to get a job in Colonial Williamsburg and I thought it would be awesome to do that during college...AND FOREVER. Knowing now that I could barely hold down my once-weekly four-hour coffee shop job in college, I'm glad I didn't really try that hard on the W&M application. I'd hate to ruin my future career in historical reenactment.
My favorite mainstream muppet is Gonzo - completely bizarre, hilarious, and genuine. My favorite Sesame Street muppet is Grover for the same reasons. I've always found Big Bird to be pretty annoying.
I like Christmas songs in minor keys or with sad undertones the best. We Three Kings, O Come Emmanuel, Have Yourself a Merry Little Christmas. In the complete opposite direction, my favorite holiday song is Mariah Carey's "All I Want For Christmas Is You" because it's freaking amazing.
My favorite holiday is July 4 - barbeques, swimming, watermelon, beers, and the possibility of losing a finger. What's not to love?
So are we all caught up now? You'll come back tomorrow and check out the snarky things I have to say about the Emmy fashion? Because seriously, Gwyneth Paltrow, that is
not
a dress you should have worn out of the house.