We have A LOT to cover, so let's just jump in, shall we?
THE GOOD!Christine Baranski!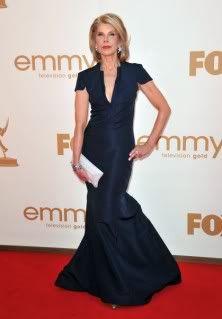 The cap sleeves, the navy blue, the big old sparkly earrings... all of it is divine!
Jurnee Smollett!
I have no idea who this woman is but I would like to steal her DNA and her dress. And her bag. And her hair.
Nina Dobrev!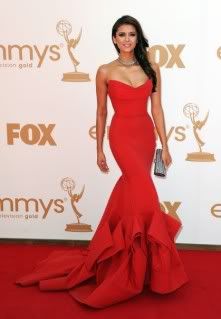 Wow. What an amazing, high-impact look. I'm totally obsessed with the bottom of this dress, mostly because it shouldn't work but it really does.
Maria Bello!
She may have forgotten to do her hair, but I love how fun and glamorous this dress is.
Sophia Vergara!
Pulls off a tricky color with much aplomb. It's a little long and I don't exactly know how she walks in it, but...damn, she is gorgeous amiright!?
Amy Poehler!
Stop being good at everything, Amy Poehler! You're making it harder on the rest of us! PS I love shiny blue metallic dresses.
Archie Panjabi!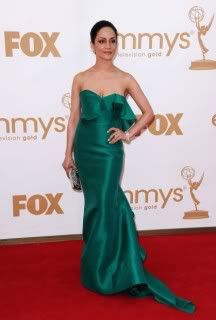 Gorgeous color, flattering cut, could use a necklace.
Claire Danes!
Amazing dress and it looks great on her. She's really got it together lately, hasn't she?
Jane Lynch!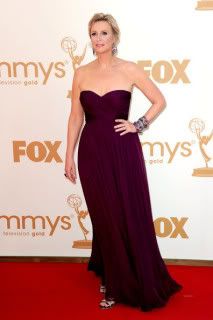 I was on the fence about whether this was a Meh or a Good, but I'm putting it here because it's so much better than usual and I am easily impressed. Of course I would like it better with a necklace, but you know me and those wide open clavicles.
Kerry Washington!
I'm not a huge fan of the sheer skirt trend (as you will see later because OH MY GOD DREW BARRYMORE), but I think this elevates the look. I like how the beading makes it look almost like fringe. And I love me a fringe dress.
Sarah Hyland!
Girlfriend knows how to dress well for her age and her body type. This is a great look.
Anna Faris!
It's possible that I'm biased because I happen to think that Anna Faris is a genius. It's also possible that this dress is everything good about art deco. Her hair is another story...
Elisabeth Moss!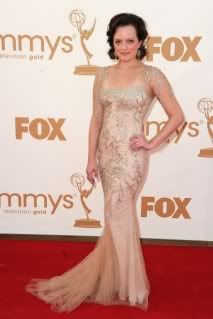 Do I love her Feminine Mystique hairdo? No. Do I think she looks amazing
in spite
of said hairdo? Hell yes. That is a gorgeous dress. Way to go, Betsy Moss.
Anna Paquin!
Yes, yes, yes, yes, yes. Perfect.
Cobie Smulders!
I am deeply in love with this color on her and, for that matter, this color on the red carpet. Love the hair, too.
Naya Rivera!
Smokin' hot.
Martha Plimpton!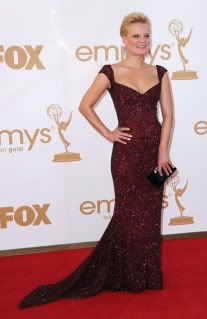 WHOA! Seriously, did anyone know that Martha Plimpton had this in her? This is the best I have ever seen her look. Fantastic dress, hair, everything. I love her but I had
no idea
she could pull it together like this.
Evan Rachel Wood!
Hands down, best dressed of the night. Stunningly glamorous. Well played, ERW! I am SO proud of you!
THE MEHMayim Bialik!
Tonight, on a very special episode of Blossom, Six and Blossom dress up in an attempt to sneak into the 55 and older community rec room. When Nick finds out, he has to rescue the girls from the enforced 9:30 PM bedtime.
Christina Hendricks!
Sooooo close! I think she looks fantastic but the combination of a too-high middle slit and the embellishment emphasizing her hips in this way isn't doing it for me. SOOO close!
Kelly Osborne!
You guys, where did Kelly Osborne go? I liked it better when she had some meat on her bones. I also liked it better when she didn't wear this kind of snoozefest dress. Ugh, let's liven it up, Kell!
Emily Blunt!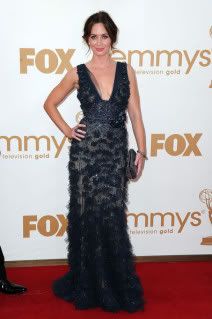 Why did you get so boring, Emily Blunt? I used to rely on you for super tight and shiny things. Now you just look like a craft project from the Roarin' 20s.
Kaley Cuoco!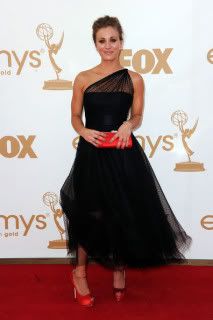 This is another one that was SOOOO close. I love this dress. Love it! Lurve. Luff. But! Those horrible shoes! They ruin
everything
! Ugh, so disappointing!
Padma Lakshmi!
Not only does it too closely match her skin tone, it looks cheap with that big seam running down the middle.
Kate Winslet!
She has a slammin' bod! She needs to wear a dress that fits!
Julie Bowen!
Our Julie Bowen never quite gets it right, does she? This dress looks like it was made for a woman about six inches taller than her. And what is up with her end of the day hair? Maybe next time, Julie.
Lea Michele!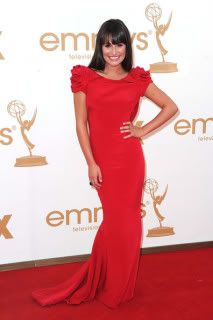 I don't know, something seems off about this. I mean, it's
fine
, she looks fine, but - is it the shoulders? Are they too Marchesa-y? (I mean, it's a Marchesa, but you know.) Maybe it's big shoulders + hair down = too much going on in the neck area...? Stop exhausting me, Lea Michele!
Kristen Wiig!
zzzzzzzzzzzzzzzzzzzzzzzz..........
Rashida Jones!
This is so boring, it actually makes me angry! Rashida! You are so beautiful and so talented and there is no reason you should show up to an awards show in a lackluster wrinkled gown with no necklace!
Dianna Agron!
I like her hair but this look is a bit mature for her. It would look fabulous on Helen Mirren, though.
Connie Britton!
Y'all, this is just a BIG look. Big hair, poufy skirt, big slit. She looks great, it just looks like a lot, you know?
Julia Stiles!
Her face says it all. Even Julia Stiles is bored with this look.
Elizabeth McGovern!
Snoozefest.
Jennifer Carpenter!
Ice dancing snoozefest.
THE BAD!Vanessa Lengies!
When I was a kid I was threatened with a big, bulky back brace if I didn't stand up straight. If I had known that fashion back braces existed, I wouldn't have worried so much about it.
Julianna Margulies!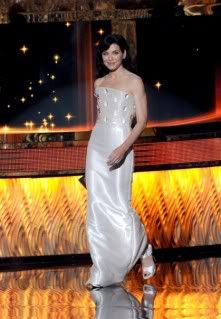 Ew! It's stiff and shiny and looks like a bad window treatment from the 90s!
Katie Holmes!
I like this color on her but the cut of the neck on this makes it look like a sports gown. Also, do you think at any point in the evening Katie Holmes realized she forgot to get her hair done?
Paz de la Huerta!
Are we in a middle school production of
Once On This Island
? I mean, there's bronzer and then there's the wrong shade of foundation. Combine that with a semi-mullet dress and a sullen expression and this is what you get. Which is delightful to me, of course.
Thomas Jane!
Chicken. Feet. Feet of chicken. And far too much suit. Also, chicken feet.
Paula Abdul!
While Paula Abdul may have
never been drunk in her life
, I think her dress is. Why is it on crooked? And why does it look like a country casual Christmas tree from the knees down?
Eva La Rue!
I don't understand this dress and I refuse to try.
Heather Morris!
Hideous. Everything is wrong here. Okay, I'll admit the color is pretty on her, but that's as far as I can go. This is really really bad.
Olivia Munn!
How is it possible to choose a dress that makes you look big when you are, in fact, wee? This is the least flattering thing I have ever seen her wear. Burn this dress, Olivia!
Alan Cumming!
Oh girl, oh no.
Jayma Mays!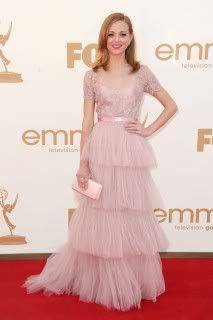 Yes, Jayma, you're the prettiest princess. Now go back to playing with your dolls - Mommy's trying to blog.
Kelly Macdonald!
It's heartening to know that Kelly Mac is just as depressed by her ensemble as I am.
Taraji Henson!
OMG! I have that same nightgown! (Just kidding, I wouldn't buy that nightgown.)
New Charlies Angels and Drew Barrymore!
Minka Kelly - dowager chic.
Middle Girl - you can't see it in this picture but she chose to pair that beautiful dress with an Al Pacino-style headband!
Blondie - boring but I love that haircut.
Drew Barrymore - GAH!!! What in the name of Bed Bath and Beyond is that!? Oh my god, Drew! No! Noooooooo!
Heidi Klum!
How come no one told me that Saloon Girl was the big look for Fall?!
Gwyneth Paltrow!
Four words: Midriff. Macramé. Evening. Gown. (AND it's too tight in the waist, making our Gwynnie look like she's got something a little extra, which we all know is total bullshit.)