To quote one of my favorite movies, we're back! And ready for Round 2! Let's move on to some less successful looks from the Golden Globes.
The Meh!
Emily Blunt!
"Now wait. I know what you're thinking: I seem to have forgotten to do my hair. You are correct." Ugh, Blunt! Such a pretty dress in absolutely the wrong color.
Amy Pohler!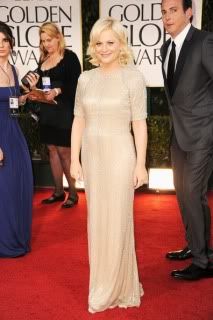 Amy! We are not 65 years old! There is no need for this frumpery! Try a color!
Reese Witherspoon!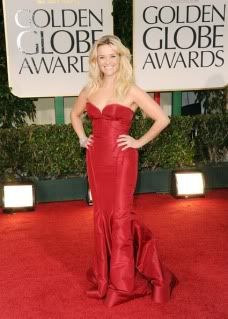 I realize I may be alone in this opinion, but I find this dress to be unflattering. I think the detail around the hips makes her look bigger than she is. The color is great and the hair is fantastic, but the dress itself just seems a skosh small.
Madeleine Stowe!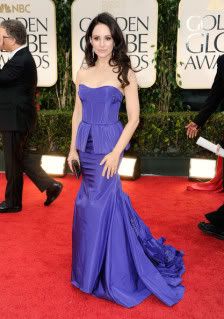 What a lovely color! What an ill-fitting, bizarre dress! Is that...taffeta? It just seems too much and not enough all at the same time.
Penelope Ann Miller!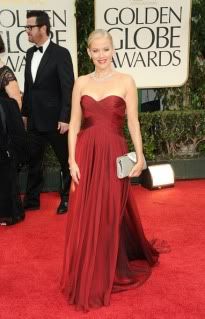 If it weren't for the fact that this woman is one sneeze away from Nipple City, USA, I would love this. Pretty dress, decent hair, and an absolutely gorgeous necklace.
Morena Baccarin!
Let's talk about what works, shall we? Her hair and makeup look awesome. I love her clutch. What doesn't work? The dress! Why is it designed to make her hips look wide? Why is she wearing the sartorial equivalent of a mammogram? WHY?!
Shailene Woodley!
I'm gonna be real with you for a moment: I don't ever make it to the movies, and the only tv shows I currently watch are Portlandia, The Wire, and old episodes of Friends. I honestly have no clue who this person is. That said, I would have preferred it if she paired this dress with a very pretty necklace (emeralds the size of her head would do well), a more dramatic up-do, and maybe a bolder lipstick.
Dianna Agron!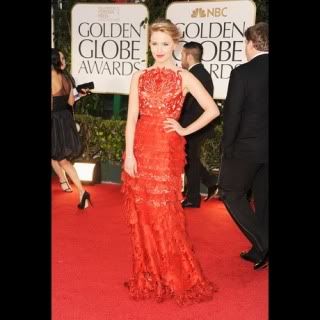 When Bad Skirts Happen to Good Bodices. Dianna, I'm with you from head to waist, and then it gets all sorts of bad. I looooooooove the bodice on this dress. It is so super cool. And her hair and makeup are perfect! And then, oh and then, the bottom happens all good tidings fly right out the window.
Jodie Foster!
The color is magnificent. That is all we shall say about this...look.
Maya Rudolph!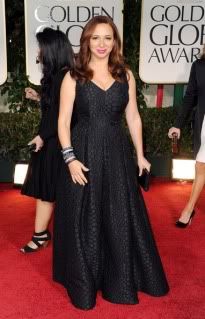 Nooooooo. It fits great but the fabric makes her look much bigger than she is. I would also seriously reconsider that shade of lipstick if I was Ms. Maya.
Mila Kunis!
Zzzzzzzzzzzzzzzzzzzzzzzzzzzzzzzzzzzzzzzzzzzz. Oh! I'm sorry, Mila! I think zzzzzzzzzzzzzzzzzzzzzzzzzz.
Debra Messing!
How many times do I have to see Debra Messing in these sad, boring, borderline-saloon-girl dresses? I am tired of it, Debs. Black is not your color, and your eye makeup is hurting my soul. Try something green or purple, please. NOT GOLD. DO NOT GO BACK TO GOLD.
Ariel Winter!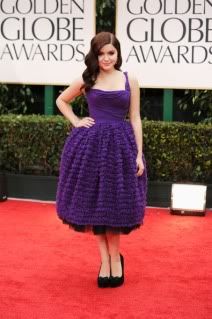 I have this daydream that someday designers will stop making dresses out of Mr. Snuffleupagus. Until that dream is reality, we will have to deal with this dress over and over. I hate the tea-length, even if she is a teenager and can therefore get away with such things. The shape is weird on her. The color, on the other hand, is perfection and her hair looks great. But, Ariel, girl - find some shoes that fit!
Julianna Margulies!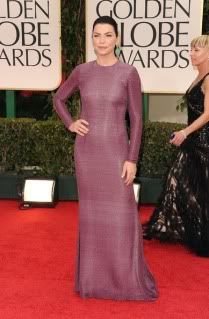 I don't like it and you can't make me change my mind. I just don't. Love the earrings, though.
Kristen Wiig!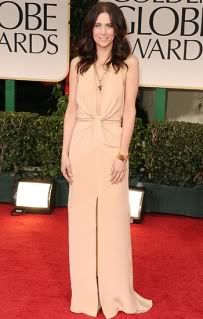 The
only thing
keeping her out of The Bad column is that the dress is kind of great and fits her very well. And she's wearing a big ole necklace (yes!) and her hair looks kind of amazing. But. The color of this dress is just the worst thing in the world. I am so done with all of these beige and peachy dresses on the red carpet. SO DONE.
Helen Mirren!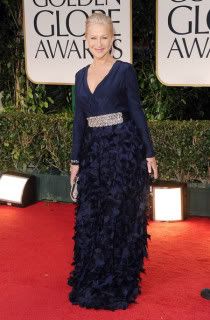 Waist-up: classic, gorgeous Helen Mirren red carpet look in a fantastic color. Waist-down: Follow That Bird.
Kate Beckinsale!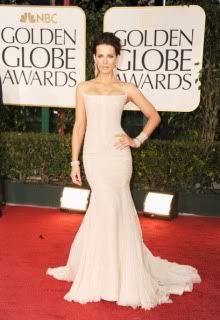 Gorgeous woman in a gorgeous dress with amazing accessories.... why am I so bored? Also, side note, does Kate Beckinsale do anything other than
Underworld
movies anymore? Is it too much to ask for another
Serendipity
? Actually, scratch that.
Serendipity
was a terrible movie. As you were, Beckinsale.
Elizabeth McGovern!
My first and most lasting impression of Elizabeth McGovern is from Faerie Tale Theatre's version of Snow White. How nice of her to choose her Golden Globes outfit to remind me of that! Nice necklace, though.
Mireille Enos!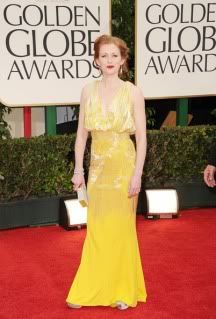 I actually quite like this, though I wish the top weren't quite so huge and breezy. Huezy. That's our new word, dear readers. Huezy. Use it three times today and it's yours.
Matt LeBlanc!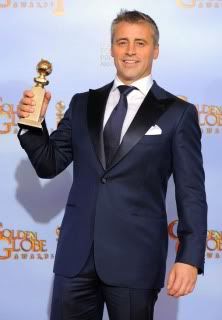 WHEN DID MATT LEBLANC TURN INTO TONY DANZA?!!?!?!?!? Perhaps more importantly: HOW DID TONY DANZA GET A GOLDEN GLOBE!?!?!?
Natalie Portman!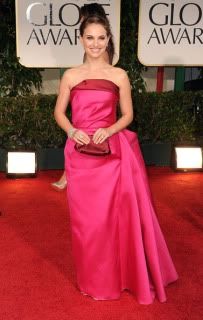 While I am pleased that she did not show up in the pregnancy bag she wore last year, the color scheme is sort of reminiscent of that gown. I suppose now we know the truth about Natalie: her colors are Blush and Bashful. (I'll just let you finish that quote in your head. I know you're doing it anyway.)
Kelly MacDonald!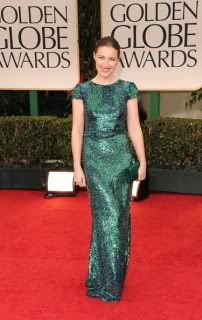 We regret to inform you that Amy Pohler's dress has had a tragic algae accident and has now attached itself to Kelly MacDonald. Ms. MacDonald was not prepared for the attack, as you can tell by her lack of hair style and under-applied makeup. More on this story as it develops.
Tomorrow! The one you've all been waiting for... THE BAD.