My dear readers, it looks as though I will need to split the Golden Globes rundown into three separate posts this year! There are so many looks for us to discuss, we needn't rush through all of them at once. So we'll start with The Good today, move to The Meh tomorrow and finish out with The Bad.
But before we get to the absolute fierceness of the red carpet, can we just take a moment to say ...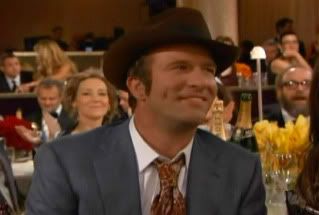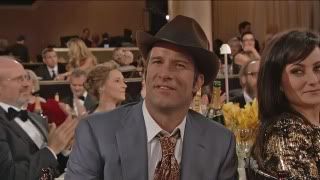 WHAT THE HELL IS THAT!? Thomas Jane, for shame! The suit! The godawful tie! The HAT! Christ on a bike, someone get him out of there. Ahem. Now that we've covered that....
THE GOOD!
Tilda Swinton!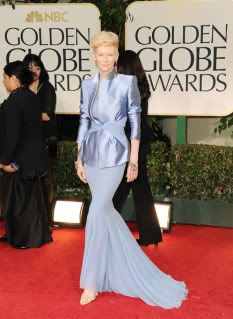 Boom! We're starting big and controversial with none other than our beloved SWINTON. The color is perfection, the garment straddles the line between gown and menswear, and I am of the opinion that her hair is magnificent. I love you SWINTON.
Sarah Hyland!
I was desperately bored by all of the beige and peach on the red carpet this time around, and Sarah's dress is no exception. But. The construction is lovely, I love the lace and the black accent, and I thought her hair was perfection. You're so cute, kiddo!
Jessica Alba!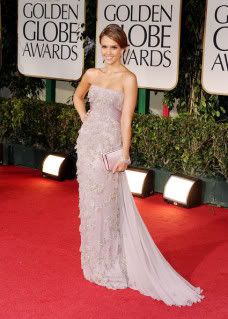 Against all odds, I like this dress. Sure, it's fussy. And yes, it needs a necklace. Even with that, I think the color is a dream on her and it's very regal. I just said Jessica Alba looks regal. The Mayans may be right...
Amber Riley!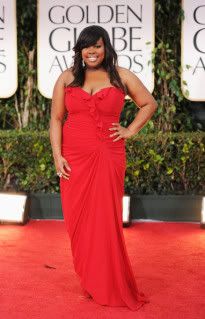 Beautiful color, amazing cut, cute hair, yes yes and yes.
Emma Stone!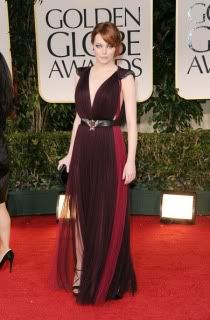 True facts: I am biased in favor of Emma Stone because she is my girl. I love her, I think she's the best, and even when she wears bad dresses it takes me longer to admit that she looks gross (ahem, last year's Golden Globes.) THANK GOD none of that matters this year because Ms. Thing looks amazing! Yes, a delicate necklace would have been welcome here, but I love everything else that's going on, even the risky belt. Great job, sweetheart!
Zooey Deschanel!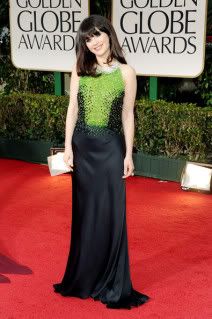 I changed my mind about this since Sunday. I didn't like it very much on Sunday and I definitely thought her hair looked like a wig. I still think her hair looks like a wig and that her entire head is going to a 60s go-go costume party, but I kind of dig the whole thing together. Sure, it's a little bit Lite-Brite, but in a very fashionable way.
Sophia Vergera!
Serious question: how could girlfriend walk in this? CURVES AHOY is her go-to style, but I'm actually fine with that as long as she continues to choose interesting colors in interesting fabrics and looks absolutely outstanding in them, as seen here. Another question: with her hair down like that, do we think she needs a necklace? I am unsure.
Paula Patton!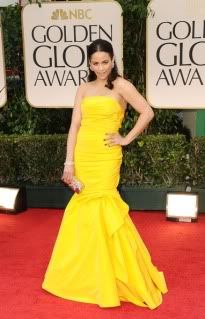 I can
feel
you rolling your eyes, but I'm gonna be straight up with you: I dig the yellow. I think she looks superb. That said, I am SO TIRED of this gown shape. Please stop it, Hollywood starlets! It's BORING. Also, Paula, you need a brighter lip color.
Stacy Keibler!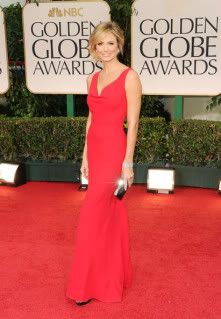 We can all agree that George Clooney did an excellent job picking out this dress for her, right? She looks stunning. Sigh. I wish I was George Clooney's beard and got to play dress up with him. Of course, if it was me, I would have gone for a slightly sleeker hairdo, but you know, potayto-potahto.
Viola Davis!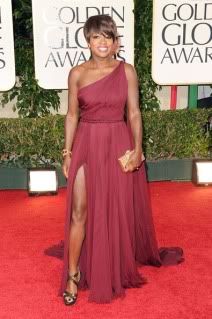 While the pose is doing her no favors, the dress is gorgeous, the color is divine, and her hair is great. But one quick reason I want her to put that leg back where it belongs: WORST SHOES EVER.
Salma Hayek!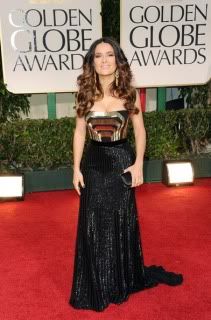 Okay, this dress sort of stumpifies her, but still...Stunning.
Evan Rachel Wood!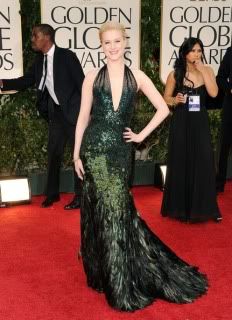 This girl knows how to wear a dress. I wouldn't normally be into a dress that looked like a mermaid and 16 mallards were skinned to make the fabric, but it just looks so good and so dramatic on ERW. I don't love her current hair color, but the way she styled it was impressive, considering how short it is. It's so hard to do a formal short hair look. (You'll see what I mean when we get to Jen Lindley.)
Kate Winslet!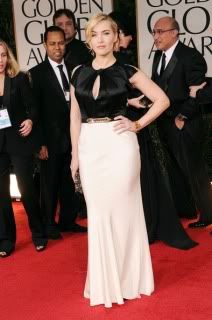 Gorgeous, appropriate, sexy, fierce.
Jane Lynch!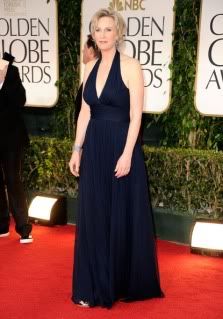 Officially off WTS probation! Welcome back, Jane. So glad you got it right this time! You look absolutely lovely.
Glenn Close!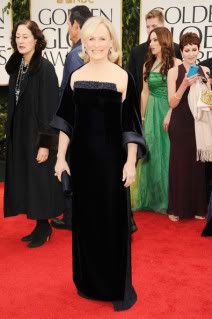 While I'm not sure about the fit of the jacket, I have to say that Glenn Close looked better on the red carpet than she has in years. I like the construction of the bodice and the fit of the dress. Grading on a curve, this is a very successful look.
Diane Lane!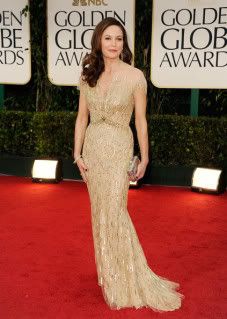 Hello, I'm Diane Lane. My specialties are effortless glamour and looking about 20 times better than women who are 20 years younger than me. Suck it, Lea Michele.
Octavia Spencer!
Gorgeous color, flattering cut, fabulous bling, nice hair. Well done, Octavia, well done. Also, one of the better speeches of the night. Can't wait to see what you wear to the Oscars.
Nicole Kidman!
I'll be honest. When I first saw this dress, I felt it was a bit too robotic, a bit too I HAVE BOOBS. But I've been looking at it a bunch since then and while I still do not think that oyster is the best color for Ms. Kidman, I think this dress is dramatic in a really great way and fits her like a dream. She's definitely doing a great job of not letting the dress wear her, on top of that. So I say good job, Frozen Face.
Idris Elba!
I don't have any comments, mostly because it's difficult for me to form words when I look at Idris Elba. Guuuuuuuuh.
Claire Danes!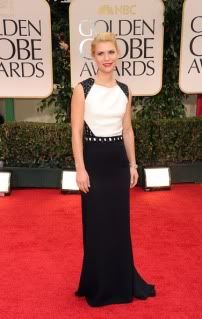 Gorgeous. Beautiful. Interesting. I instantly loved this look. Angela Chase, you're all grown up!
Laura Dern!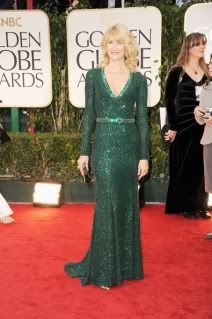 One of my absolute favorite looks of the night. I love this color on her, the beading is exquisite, the belt is a great accent, and her hair looks fabulous. With all of the beading and sequins going on, I actually think she was right to skip the necklace.
Angelina Jolie!
I have never written this sentence before, but I thought Angelina was the best dressed of the night. That dress is gorgeous, looks great on her, the hair is perfect for the look, and can we all agree that the red flap is so totally cool?! Looking at her on the red carpet, you could tell she was just going to turn heads all night long. (Cue Lionel Richie.)
I'll have the MEH for you soon! Stay tuned!