You guys, I am butt-crazy with work, but I know I can't leave you hanging on this SAG Award fashion rundown. Let's start with The Good!
Annette Bening!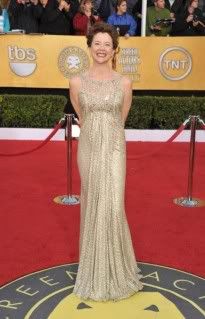 Poor Annette. She keeps
almost
winning an Oscar and now she
almost
won my Most Improved Award. Always a bridesmaid, right? Such a good showing here, Annette. Love the dress and the hair is DRAMATICALLY better than it was at the Golden Globes. I'm sorry to hear that you lost your arms in a tragic red carpet accident. I'm also sorry you wore that lip color, but I can let it go.
Sophia Vergara!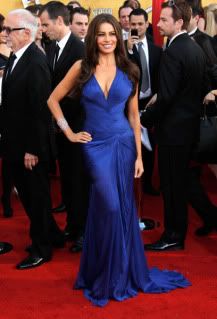 Girl, yes! Even better than her GG ensemble. Love the blue, love the draping, love the cuff, love the hair. Boom! That's how you do bombshell on the red carpet.
Katrina Bowden!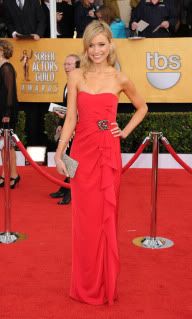 There was a lot of red on this red carpet (and much of it successful), so I'm trying to break it up for you. This dress is a skosh small in the bust, but I love the brooch and the styling. I think you know how I feel about her neckline, right?
Could use a necklace
.
Susan Sarandon!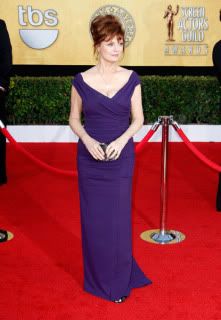 God love ya, Susan Sarandon. Even if you did leave Tim Robbins for some weird ping pong guy and now you're spending all of Sundance making your friends play ping pong, you still can knock it out of the park on the red carpet. I am generally a fan of her formal pantsuits, but this purple is just so pretty paired with her current hair color. The neckline is amazing and- would you look at that?- a necklace. I love you Susan.
Amber Riley!
This girl knows how to bring it on the red carpet. She wears gowns that actually fit and balance
and flatter
her frame. I'm glad she kept her hair down because it would be way too Chiquita Banana Attends A Funeral if she piled it up on her head.
Valerie Bertinelli!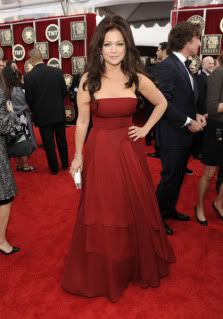 I don't think I have ever seen Valerie Bertinelli look this great. Sure it's a little boobalicious and that is one expansive neckline with no jewelry, but her hair is cute, the color is gorgeous, her makeup looks incredible, and the dress is so pretty. Well done, ValBert!
Hailee Steinfeld!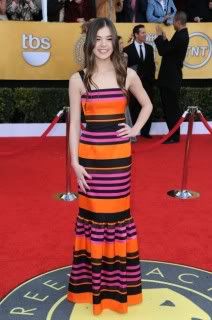 Have you guys figured out the secret yet? That Hailee Steinfeld can do no wrong in my book? This dress is a little more Independent Spirit Awards than SAG Awards, but I am absolutely all about a young teenager dressing like a young teenager instead of trying to dress 15 years older than she is. She is totally taking advantage of the fact that she is young and lithe enough to get away with form-fitting horizontal orange, pink, and black stripes. Also, hello! Wouldn't you love to wear Prada as a teenager? Not that I knew what the heck Prada was as a teenager...
Kyra Sedgwick!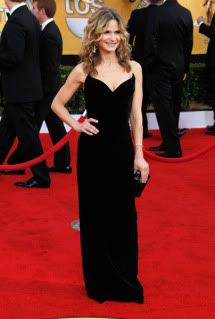 Kyra, give the name and number of your stylist to every Hollywood star and starlet, tout suite!
Sarah Hyland!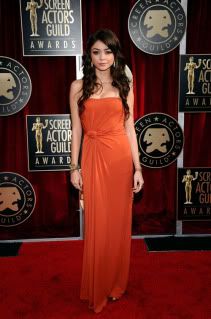 She looks so pretty. I love this dress, I love this hair, I can even get behind the makeup. However, she remind me why my mother was constantly telling me to stand up straight as a kid. Actually, no, it was worse than that. She would say, "Tits out!" Sheesh, Mom.
Lea Michele!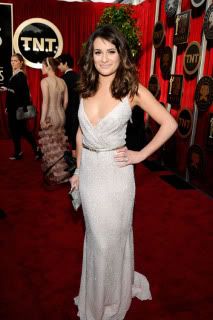 Even though her boobs appear to be afraid of each other, I think this is glamorous and chic. Lovely jewelry, pretty hair...yikes on that lipstick, and the hem is pooling in a crazy way, but I think this is a really hot look.
January Jones!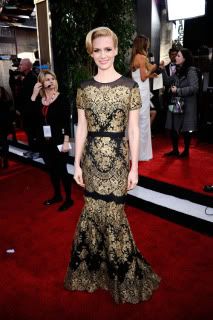 That's right! JJ herself is here to accept the Way Too Shay Most Improved on the Red Carpet Award! I'm not saying I love the helmet-like hair swoop
thing
, but this dress makes the most of her assets without vulgarity. Congrats, JJ. Now go somewhere I don't have to see you for a while because you
exhaust
me.
Claire Danes!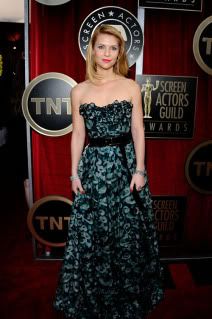 Love the cut, love the pattern, love the hair. Don't love the fancy-dress Bracelets of Victory look, and for the love of God, Angela Chase will you just get someone else to do your makeup for you? It's bringing you down, girl. Overall, I give this a B+.
Mila Kunis!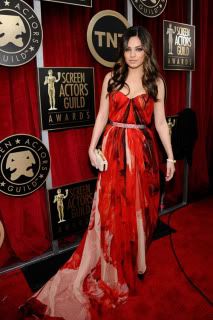 Want that hair. Need that clutch. Must have that dress. Remarkable. Amazing. Beautiful.
Tina Fey!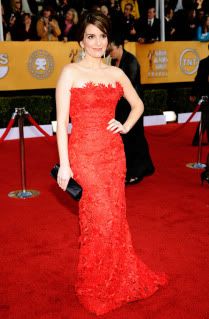 BLAMMO! You know that scene in
A Christmas Story
where Ralphie dreams that his teacher is grading his work A + + + + + + + + + + +? Seriously, that is what I was like when I saw Tina Fey in this ensemble. Best dressed of the night! Amazing makeup. Who knew?
and last but certainly not least....
Helena Bonham Carter!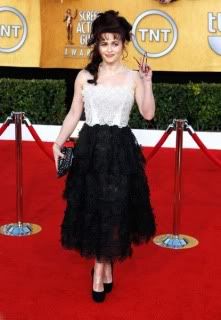 We are grading on a curve, boys and girls! On any normal person, this would probably be a disaster. But this is our beloved Helena Bonham Carter who clearly knows and embraces the spirit of being waaaay too shay. I think she looks very pretty, but still very HBC. Way to go, Helena. You found matching shoes!