I'll bet you thought we'd never get to these! Let's do it, Rockapella!
Naya Rivera!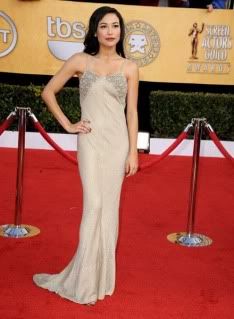 When we last saw Naya her boobs were levitating of their own volition, barely concealed by her dress. Now she's trying to fool us into thinking that her boobs are barely there. This looks like an unflattering nightgown from 1974. Please stop, Naya. You're hurting me.
Paz de la Huerta!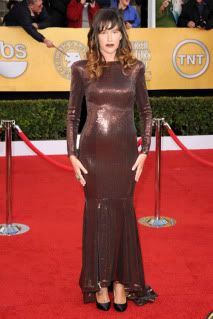 Paz: Courtney Love circa 1992 called. She wants her lipstick back. And she is PISSED!
Jane Lynch!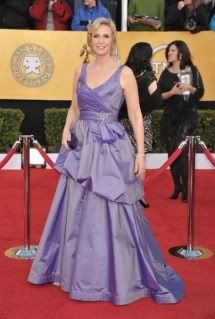 Quelle nightmare! The color is okay, but the tank cut of the top, the sash, the inexcusably floofy tier, the absolutely aggressive hem line ... it's all just too much. You guys, I think I'm going to have to cut Jane Lynch off from awards shows. I'm sorry, Jane. You're cut off.
Jenna Ushkowitz!
First of all, the color is insanely bad. Secondly, I'm sorry but that necklace doesn't go with that dress (BUT AT LEAST SHE TRIED). Thirdmost, wrinkle city plus those ruffles does not equal cute. Lastly, it is just too tight in the midsection. You can't really tell from this photo, but I saw a few where you can clearly see the outline of her belly button, which is a sure sign of Too Tight. There is no crime in going up a size, girls of the world. Glamour is all about flattering your frame, no matter what number is on the tag.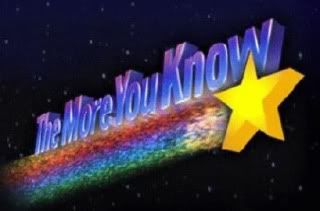 Kelly Macdonald!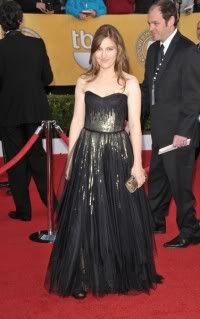 Sad and depressing. It looks like she is trying this on for her friends for fun while they were all shopping in the mall. She's about to take it off, put her jeans back on and go get a Cinnabun. And why not? They are delicious.
Nicole Kidman!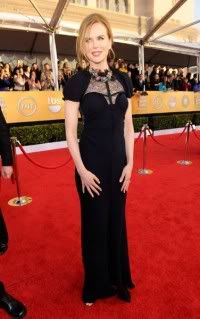 Oh my god, you guys, this is awful. The spiderweb netting. The
flowers
at the notch of the neck. The awful windowpane effect on the chest. The shoulder pads. Someone fetch the smelling salts, I'm getting the vapors!
Melissa Leo!
I can only assume that Melissa Leo feels more comfortable in unflattering clothes. I should have known that her Golden Globes outfit was but an anomaly. Fool me once, Leo....
Angie Harmon!
We've been here before a couple of times (Pen Cruz, Drew Barrymore) but for the new students in class, I will reiterate: please refrain from using beloved Sesame Street characters as your red carpet attire. This one is actually worse that the Pen Cruz Snuffleupagus incident because the bodice of Angie's dress is heavily boned corset-style, which to my eye looks kind of cheap.
Especially
when you consider the furry boobs.
Kate Mara!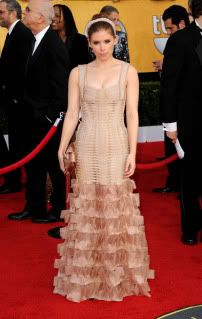 Oh girl. Oh no. There is absolutely nothing about this look that works. It is possibly the worst thing I have
ever
seen on a red carpet. Oh girl. Oy.
Christina Hendricks!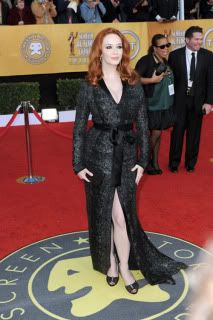 What in the name of Oscar de la Renta is that!? Christina, come over here for a second, I wanna talk to you privately.
Honey. Do you have friends? Do you have friends who celebrate you for how fabulous you are and want you to succeed? Shhh - just let me finish here. I don't think you do. I don't know who told you to wear a smoking jacket to the SAGs, but honey: that person is not a friend. Why did you let them put all of that black eyeshadow on you? It obscures your big, beautiful eyes. It's okay, darlin. We're gonna help you. We're going to find someone who actually cares about you and then we'll all go shopping for the Emmys, okay? Okay.
Jennifer Lawrence!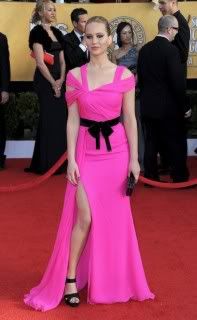 GAH! Someone is running around Hollywood making all of these girls wear pounds of black eyeshadow. We have to stop them! Also: this dress is hurting me. Like, a lot. It's just so bright that I can't concentrate on anything except how
bright
it is and that slit has me clutching my pearls! If I look past the color choices, I really like the draping, especially how the top is done. Basically, this could have been a great dress and it was irrevocably ruined by the color scheme and leg patrol. EW.
Winona Ryder!
I challenge you to name one thing about this look that works. The hair? Nope, sloppy and too young. The makeup? See the last two entries above. The dress? Unless she is getting married and her boobs unexpectedly grew a cup size overnight, I cannot excuse how ridiculous and ill-fitting this dress is. The handbag? OH MY GOD NO. Look, Wino, I also hate clutches but sometimes you just have to suck it up. (Unless of course you brought your latest sewing project with you, in which case - that is hilarious and you are excused.) Okay, the hem length is perfect. But that is all I have for you in terms of compliments! I love you and I want you to be better than this. Please. I'm begging.