Someone on my Facebook feed commented "I sure hope James Franco was high because otherwise that means he's a smug douchebage." TRUE! I haaaaaaaaated watching him host, rolling his eyes and acting like he'd rather be anywhere else. Anne Hathaway may have been the "Woooo!" queen last night, but she was working her buns off trying to make that show happen. At least she
looked
good. You'll see... I've included all of her
eight
looks in the rundown. So, strap in kids. We've got a lot of work ahead of us. Let's start with the bright spots, shall we? The Good!
Anne Hathaway!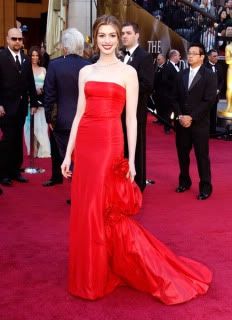 While I found it strange that she walked the red carpet in something never to be seen again, I loved this 1981 Valentino. It's glamorous and beautiful. I don't think it looks like a tumor.
Reese Witherspoon!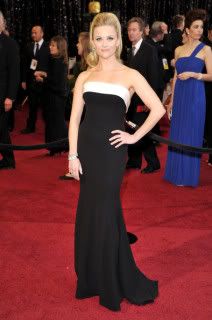 I am biased. If you reverse the colors, I wore this to the prom my junior year. I loved that dress. I love this dress. Very simple and elegant. The hair might be a little Texas, but I won't mess with it.
Pen Cruz and Javier Bardem!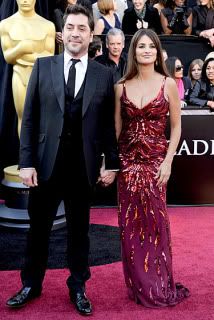 WHAT!? She had a baby like a minute ago!!! What the hell is she doing looking smoking hot on the red carpet!? While I think that Javier is the foxiest fox of all foxes, I think he perhaps put on a little bit of sympathy weight. His tux was a wee bit snug on screen.
Anne Hathaway!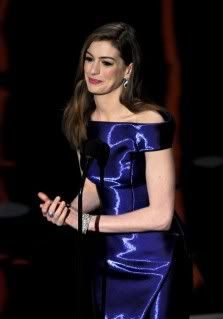 I love this dress. I love the shimmer, I love the tight fit, I love the neckline, I love the color. Girl. Yes.
Mila Kunis!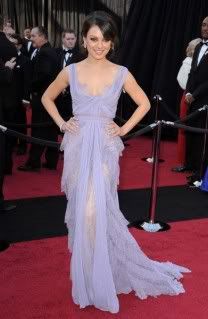 Last night I hated this dress. This morning I woke up and thought, "Well it's not THAT bad." This afternoon I thought, "It flowed so well and she looked so pretty." And now I'm thinking, "Great job, Mila. You look totally hot. I hope you
are
boning Justin Timberlake."
Gwyneth Paltrow!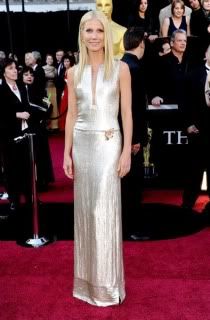 Suck it, I like this gown. Think of the alternative for a moment: a pretty princess dress like that pink
Shakespeare in Love
disaster? Ms. Gwynnie does not do floofy, fluffy, girly all that well. I think this sleek and polished look is fantastic for her. And I freaking loved her seahorse jewelry. So. Cool.
Anne Hathaway!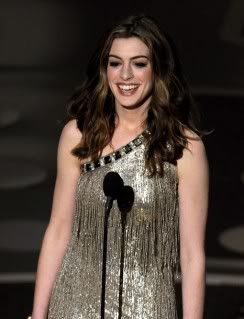 Further cemented herself as "Girl I could have fun drinking a bottle of wine with" when she went off script to demonstrate her cool fringe dress dance. It was a neat look for her, and broke up the parade of super sleek gowns nicely.
Jennifer Lawrence!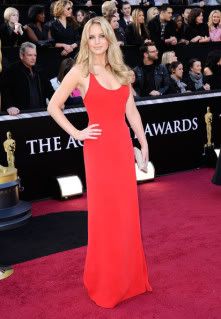 Grading on a curve, I think she looked fabulous. Sure, the top is reminiscent of Farrah Fawcett/Baywatch/other iconic red tank bathing suits...but think back to the other crap this girl has subjected us to. The searing neon pink thing? I don't forget things like that which is why I am glad that she pulled the blonde knockout card for this one. Well done, Jennifer Lawrence.
Natalie Portman!
Now that is more like it! Nat! Great job! Beautiful color, perfect cut, fun earrings, romantic hair, got to keep your allegiance to Rodarte, and you managed not to mention sleeping with your fiancé during your acceptance speech. All in all, a night to remember. Well done, you!
Jennifer Hudson!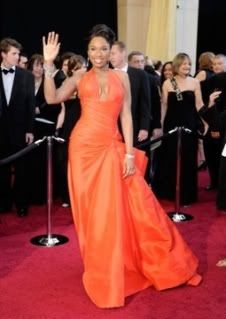 Admittedly, the boobs are a little whack. Why oh why make them look fake? Such a strange choice. BUT. The dress is gorgeous, the color is seriously amazing on her, and sweet moses, could she be any more radiant?
Anne Hathaway!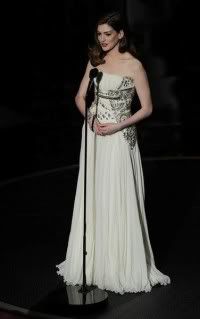 Looooooooooooooooooooooooooove. Love this dress. Looooooove. So much. Needs a necklace.
Helen Mirren!
BLAMMO. Beautiful cut, love the shorter hair, love the accessories! And she has puffed sleeves. A woman after my own heart.
Sandra Bullock!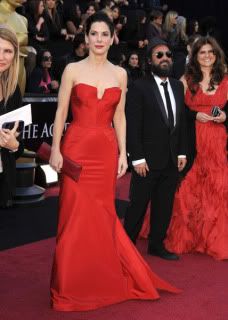 I'monna just go ahead and say she could use a necklace. But, look, this is an enormous improvement over that sad, sad lilac gown with the ridiculous bangs we saw last time around. The color is great, the bangs are gone, I actually really like pairing the dark red bag with the bright red dress. There's just one thing I need to talk to our Sandy about...
GIGANTIC. BUTT. BOW.
Sandy Sandy Sandy. You know the only appropriate place for a butt bow is on a bridesmaid. But you know what, you look so good and it's such a huge improvement from last time that I am going to let you stay in the good pile. You're welcome.
Anne Hathaway!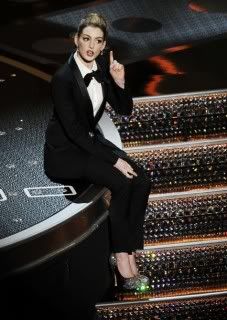 Adorable. Covet those shoes.
Amy Adams!
Soooo so close to being my favorite of the night. This dress is a dream. It fits her immaculately. I love the color, I love the soft romantic hair. And then, oh my god, you guys! How am I about to say this? I appreciate the effort, but I would not have worn a necklace with that dress. Don't get me wrong: I am all about golfball-sized emeralds. But not with this neckline and with how much glitz is already going on. So close, Amy. Really really well done, girl.
Hailee Steinfeld!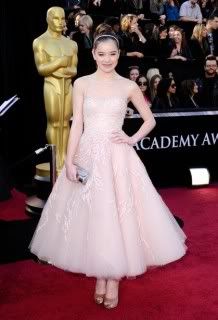 It's perfection. The cut, the hemline, the top, the headband, the color. Custom Marchesa at 15 years old? Oh, you lucky and fabulous girl. I so hope you continue down a good path. You win the Oscars for me.