Welcome back, fight fans! Let's do this!
Julianna Margolies!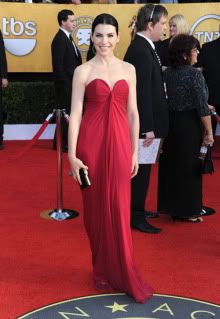 Sooo close. I love red on her but I feel like this dress is missing something. Well, there is the lack of necklace, of course, but it's something else. Something in the draping of this dress starts out great and then just falls flat for me. I will give her points for wearing something better than that terrible Golden Globes dress, though.
Jayma Mays!
Another slight improvement. I guess the dress is fine, but that color is all wrong. And while we're on the subject of all wrong, those shoes make me want to throw up.
Mindy Kaling!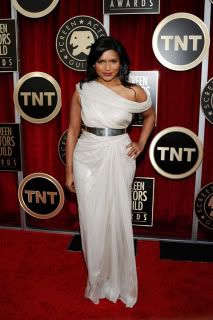 Love. Huh. I think she looks pretty great, but I hate the fabric. The neckline is pretty but paired with the heavy belt, it just makes her look kind of thick, which she is not. I think, actually, my real problem is where the belt falls - see how it hits just above some structural detail on the dress? It just doesn't work. Her hair and makeup are flawless, though.
Kim Kardashian!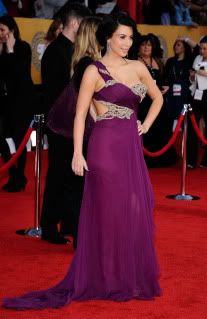 Okay, someone who actually watched the SAGs please tell me: why was this person at the SAGs? The dress is a headache. Great color and interesting construction but gaudy accents and a runaway boob. Headache.
Hillary Swank!
That is the taupiest taupe I have ever seen. Snoozefest.
Barbara Hershey!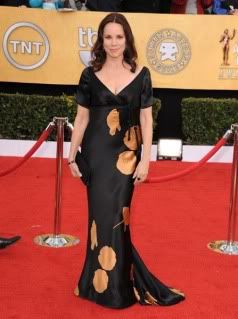 I'm so glad to see our own Hillary Whitney on the red carpet! I am less excited to see that she spilled bronze paint all over her pretty black dress and forgot to do her hair. Maybe I'm just jealous, all right? So jealous of her I can't see straight! She did everything she said she was going to do, everything! And her talent, this incredible talent! I can't even yodel!
Jane Krakowski!
STOP POSING LIKE THAT. And those shoes don't go with that dress.
Edie Falco!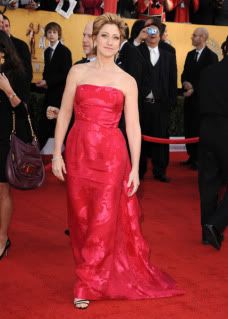 Edie Falco knows she can rock the red gown and she does it so often that skstjstkskjskfffffff... sorry, I just fell asleep on the keyboard.
Dianna Agron!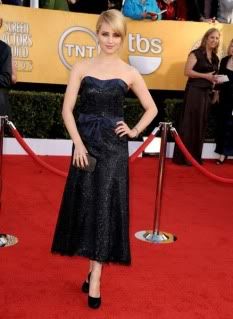 I praise you and this is how you repay me? Awful makeup and a dress that makes you look 3 inches shorter than you are? Boo to you, Quinn Fabray, boo.
Amy Adams!
I don't think Amy Adams understands that she should stick to soft and feminine. This strident fashion maven look doesn't work for her at all. That dress makes her look hippy (that is to say "possessing of regular person hips," not "smells like patchouli") and the hair is way too severe for her face shape. Let us love you, Amy.
Rosario Dawson!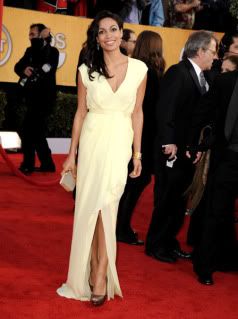 This was so close to going in the Good pile. She looks absolutely gorgeous and that color is amazing on her. But the dress looks like it's too big in the bodice. Not that I need every star and starlet to show up in Hervé Léger, but at least make sure the dress fits.
Julie Bowen!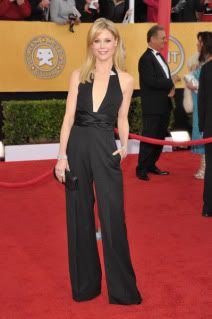 You know what? Shorten the hem an inch and a half, take the hair half up, and this is in the Good pile.
Eva Longoria!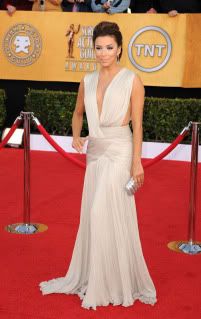 Are we Jennifer Lopez? No, we are not Jennifer Lopez. Readjust your top accordingly. And, dear god, that low low draping on the midsection just makes you look stumpy...stumpy with an outrageously long torso. Don't try to fool us, Longoria!
Heather Morris!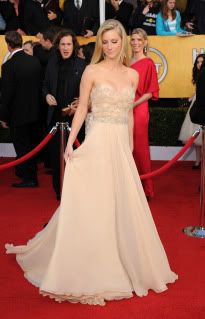 I love you and I want you to be happy. That is why I implore you to explore colors. And bodices that fit.
Ariel Winter!
This is what I'm talking about when I praise Hailee Steinfeld. Girlfriend is trying very hard to look much older than she is. I could see this on Anne Hathaway or someone else in her mid-late 20s. (God, I wish I had seen this on Anne Hathaway. Girlfriend has fallen into The Pit of Despair. You may be very brave, Anne, but no one withstands The Machine.) The shoes make her look like she's playing dress up. Ariel! You are adorable! Don't do this!
Julia Stiles!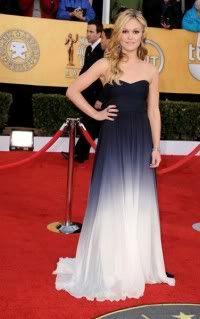 True confession: I am no fan of ombre dresses. I am especially not a fan of dramatic ombre, like this. She looks beautiful and the dress fits her like a dream, but I can't help thinking she is slowly disappearing from the bottom up. Maybe a necklace would help keep her tethered to this world?
Amy Pohler!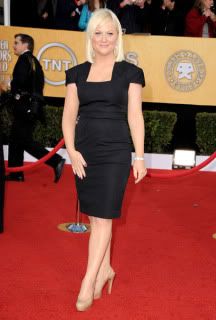 Amy! So nice of you to stop by the red carpet on your way home from the office! How did your presentation go?
Natalie Portman!
Really? I mean, it's better than the sachet bag/chest wound dress, but really? Please, please bring out the big guns for the Oscars. I'm counting on you to get it right.