Whoops, I fell off the face of the earth for a few weeks. But I'm back! And unfortunately, I have to show you this photo.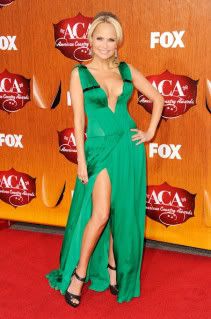 All together now: OH GIRL. OH NO.
Wow, this is bad. The color is fabulous on our girl K-Chen, but that's about all of the compliments I can give. My dear readers, I would like to advocate for being a Lady. A Lady is always gracious. A Lady recognizes her body type and age and dresses appropriately. A Lady can be sexy, but is never vulgar. In the words of our patron saint, Mary J. Blige, "I'm a lady so I must stay classy."
K-Chen is suffering here from a clear desire to appear younger than she is. In dressing like a red carpet tramp, she inadvertently ages herself in an unfortunate way. The leg reveal! The egregious boobing! And how in the world did she find a dress that makes one as wee as she look...pear-shaped? It's all just waaay too shay. Please, K-Chen, I beg you: look to Kyra Sedgwick. Shit, look to Martha Plimpton! Remember this?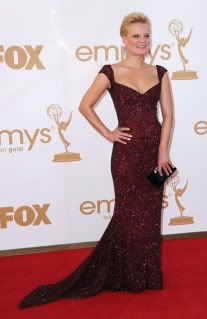 YOU'RE ONLY 2 YEARS OLDER THAN HER!